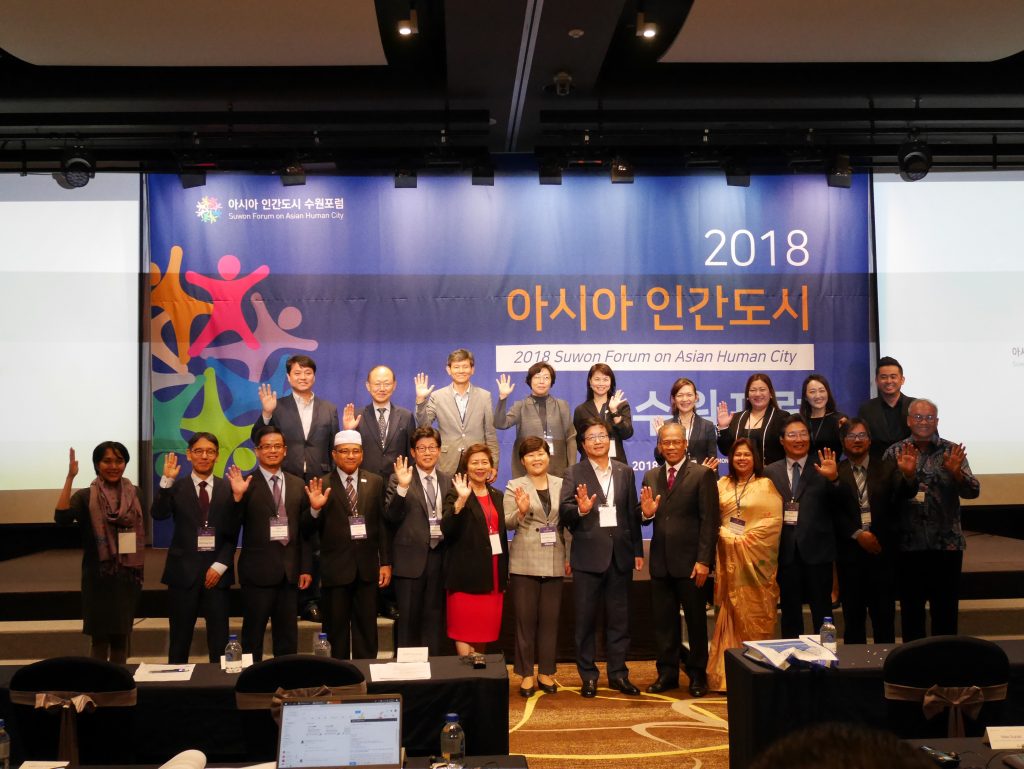 The 2018 Suwon Forum on Asian Human City was held from 17 to 18 September 2018 in the City of Suwon, South Korea. The Forum was hosted by Suwon City government in collaboration with Suwon Research Institute, Suwon Council for Sustainable Development, ICLEI Korea, Suwon Sustainable City Foundation, and CityNet. Asian municipal leaders, academics, think-tanks and international organizations got together in Suwon to discuss urban challenges, participatory planning approaches and solutions focused with human prosperity.
With an overarching theme of "Human City for All", this comprehensive Forum explored areas such as residential and urban regeneration, urban resilience and recovery, and citizen democracy. This forum served as a platform to share policy experiences in fostering human cities and to illuminate active participation and cooperation of multi-stockholders, aiming to build the foundation for the Asian Human City Network and to promote the concept of the Human City to city leaders, experts and citizens.
With increasing demand for the sustainable society, the United Nations adopted the Sustainable Development Goals (SDGs) in 2015, and participants of Habitat III agreed upon the New Urban Agenda in 2016. The importance of cities and local governments is bigger than ever in global efforts towards achieving sustainable human-centric society. This year is Suwon's third year to host the Suwon Forum on Asian Human City with a focus on new urban progress and sustainable development for the Asia-Pacific cities.
Moderated by CityNet Special Advisor Ms. Mary Jane Ortega, Mayors' Dialogue opened the discussion by providing chances to show the determination and share efforts of Asian City leaders to promote human-centered city. The speakers included Mayor Yeom Tae-young (Suwon), Deputy Mayor Datuk Haji Mahadi C. Ngah (Kuala Lumpur), Deputy Governor Oswar Muadzin Mungkasa (Jakarta), Dato' Sr. HJ Rozali HJ Mohamed (Seberang Perai), Chairperson Kishani Jayasinghe (Colombo Municipal Council), Mayor Kim Hong-jang (Dangjin) and Deputy Secretary General Jiunn-Ming Chiou (Taoyuan).
There were three sessions in this Forum. The first session was dedicated to the theme of building happier cities through urban regeneration and housing welfare, while the second and the third session provided a platform to share ideas and policy experiences in achieving urban resilience and civic democracy. Speakers and discussants included but not limited to Director Yoko Suzuki (Yokohama), Manager Daniel Lim (ThinkCity), Chairman Ahn Sang-wook (Suwon Sustainable City Foundation), Professor Marc Wolfram (Sungkyunkwan University), President Kwon Gi-Tae (Social Innovation Lab), Dr. Chinghui Liao (ICLEI Kaohshiung Capacity Center) and Program Director Dewi Shinta Wulan Dini Soebari Putri (Aksiku.Lab).
The Forum concluded with a round table discussion for youth, where young students from the local schools brainstormed solutions to ensure prosperous and fulfilling lives for all. During the closing ceremony, the students delivered their ideas to the participating city leaders, which include a city where people pay more attention when recycling, a city which is greener and a city that responds more attentively to its citizens' requests.