Welcome to the 9th CityNet Congress!
CityNet Secretariat and Kuala Lumpur City Hall are proud to announce the 9th CityNet to be held from 20 September 2022 through 24 September 2022 in Kuala Lumpur, Malaysia.
This quadrennial event is the 35th Anniversary CityNet Congress and the 50th Jubilee Year of Kuala Lumpur. Considering CityNet's growth over the past 35 years, the 9th CityNet Congress will be focused on the theme, City for All: Activating Access for Urban Growth.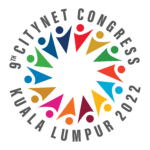 The 9th CityNet Congress
City for All: Activating Access for Urban Growth
20-23 September 2022
Kuala Lumpur, Malaysia
The 9th CityNet Congress is a unique opportunity to build Asia-Pacific regional partnerships, identify opportunities for collaboration and share best governing practices in a broad range of urban development goals. City mayors, administrators, civic leaders, and international experts will come together to consider strategies to propel local governments toward the goal of becoming sustainable, innovative, and resilient cities.
The 9th CityNet Congress preparatory team is eager to make our participant's travels, stay, and experience as pleasant and productive as possible. We are committed to providing a programme of meetings and side events that will enable participants to effectively network, share their personal knowledge, and learn from others while enjoying the beauty, energy, and history of Kuala Lumpur, Malaysia.
Please contact our Senior Program Officer, Ms. Danbee Lee at danbee@citynet-ap.org for general inquiries.
* Last updated 12 September. Please refer to the Registration page for hotel booking forms. 
Presentations from Congress