CITYNET was created in response to the needs of growing cities in the Asia Pacific. In 1982 the 1st Regional Congress of Local Authorites for the Development of Human Settlements in the Asia Pacific was held in Yokohama, Japan.
The Yokohama Congress was organized with the sponsorship of the United Nations Economic and Social Commission for Asia and the Pacific (UNESCAP), the United Nations Centre for Human Settlements (UN-Habitat) and hosted by the City of Yokohama. The Congress stressed the need to build cooperative links between local level governments and urban stakeholders.
CITYNET was officially established in 1987 with the support of UNESCAP, UNDP, UN-HABITAT, the City of Nagoya and 26 members. From that point on CITYNET has maintained its mission to promote cooperative links and partnerships throughout the Asia Pacific in order to improve the sustainability of our cities.
List of 26 members participated in '87 Nagoya Declaration
Auckland (New Zealand)
Bangkok (Thailand)
Colombo (Sri Lanka)
Dhaka (Bangladesh)
Ho Chi Minh City (Viet Nam)
Hong Kong SAR (China; Domain of U.K at the time)
Jakarta (Indonesia)
Kathmandu (Nepal)
Kuala Lumpur (Malaysia)
Lae (Papua New Guinea)
Lahore (Pakistan)
Metro Manila (Philippines)
Nagoya (Japan)
Nanjing (China)
Negombo (Sri Lanka)
Penang (Malaysia)
Pokahra (Nepal)
Port Moresby (Papua New Guinea)
Puttalam (Sri Lanka)
Semarang (Indonesia)
Shanghai (China)
Surabaya (Indonesia)
Sydney (Australia)
Tehran (Iran)
Weligama (Sri Lanka)
Yokohama (Japan)
The 1st Regional Congress of Local Authorites for the Development of Human Settlments in the Asia Pacific is held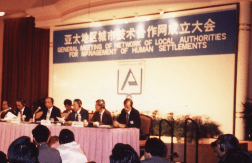 CityNet is established with the support of UNESCAP, UNDP, UN-HABITAT, and 27 members
At the Shanghai Congress , the CityNet Charter was adopted. UNESCAP undertook the functions of the Secretariat until the official CityNet Secretariat was established
The CityNet Secretariat was established with the support of the City of Yokohama
CityNet is granted ECOSOC Status of United Nations and the Bangladesh National chapter is established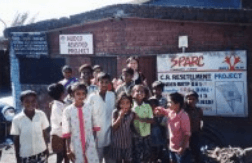 Waste water management project in Colombo, Sri, Lanka begins
Sri Lanka National Chapter established
First survey on urban poor conducted
Nepal National Chapter established
UN-HABITAT Scroll of Honour
The Kuala Lumpur Regional Training Centre is established
Awareness on Environmental Education in Asian Cities (AWAREE) Project established with the support of JICA. (Yokohama, Japan; Hanoi, Vietnam; Phnom Penh,Cambodia, Nanjing, China)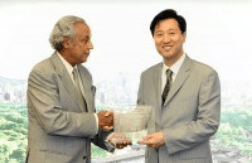 MDGs Cluster formed. Mumbai declared host of the Satellite Office
CityNet 20th Anniversary. CITYNET & EUROCITIES Sign Agreement. Post-AWAREE Project begins
CityNet Secretariat Relocates to Seoul, South Korea, India National Chapter established
Urban SDG Knowledge Platform established with ESCAP and Seoul Metropolitan Government
CityNet 30th Anniversary, Philippines National Chapter established