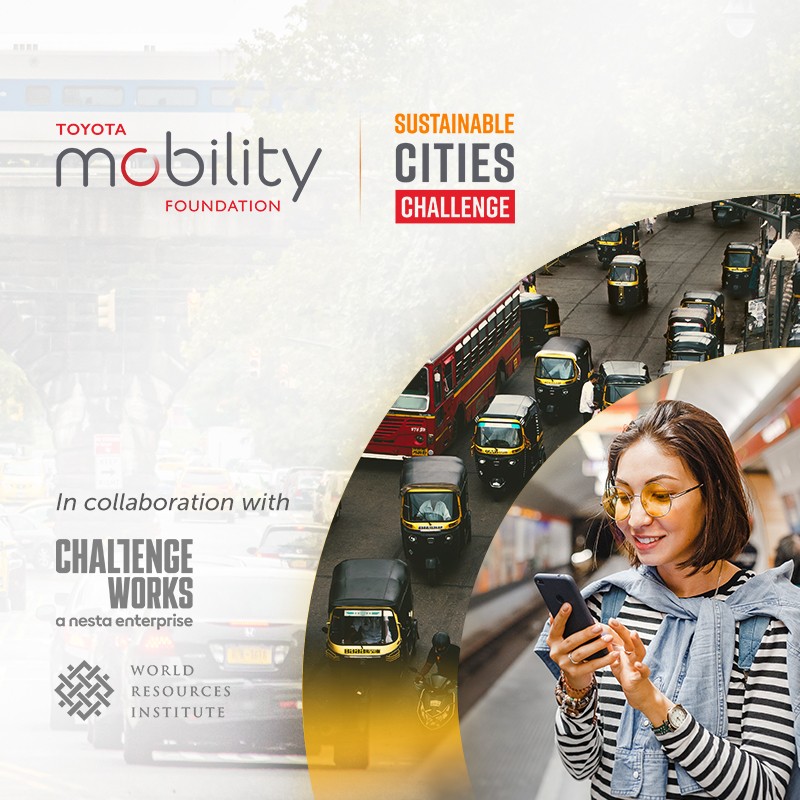 The Toyota Mobility Foundation, in partnership with Challenge Works  and World Resources Institute, launched the $9 million Sustainable Cities Challenge on 21st June 2023 to help cities adapt to the future, with the potential to transform the lives of millions around the world.
Cities across the globe are now being invited to enter.
The winning cities will host one of 3 city-based open innovation competitions that will harness the power, creativity and energy of innovation to improve access to safe, equitable and sustainable mobility solutions for all. The three winning cities will launch individual local City Challenges with up to $3 million in funding available for innovators by May 2024.
The Challenge entry requires cities to define a mobility problem(s) within their city according to one or more of the following themes:
Overcoming mobility barriers
Strengthening mobility systems
Advancing low carbon mobility
Ten Shortlisted Cities will be selected to receive a range of capacity building support to understand the issue they want to solve and attract innovators to provide solutions.
In January 2024, three of the ten Shortlisted Cities will be selected to host City Challenges to attract innovators.
Below are just a few examples of how your city can benefit from taking part in this initiative:
Chance to unlock up to $3 million in innovation funding to address local mobility issues, whilst also accessing innovation and mobility-related capacity building support.
This includes a $100,000 stipend to support the city's participation in the Challenge and to build staff capacity (where possible and in line with local laws and regulations).
Invitation for two representatives to the Sustainable Cities Challenge Academy in Dallas, Texas, USA in November 2023, where a range of experts will provide support and training in challenge design, innovation and urban mobility. Travel and accommodation costs will be covered by the Challenge.
Follow-up bespoke challenge design and problem definition sessions for local teams.
Communications and publicity support to raise awareness of your involvement in the Challenge.
Access to peer sharing with a cohort of nine other innovative city teams.
To learn more and apply, visit the Sustainable Cities Challenge website.  The deadline to apply is 18 September 2023.
Specific questions about the appliction can be directed here, where cities can register for one-on-one meetings.