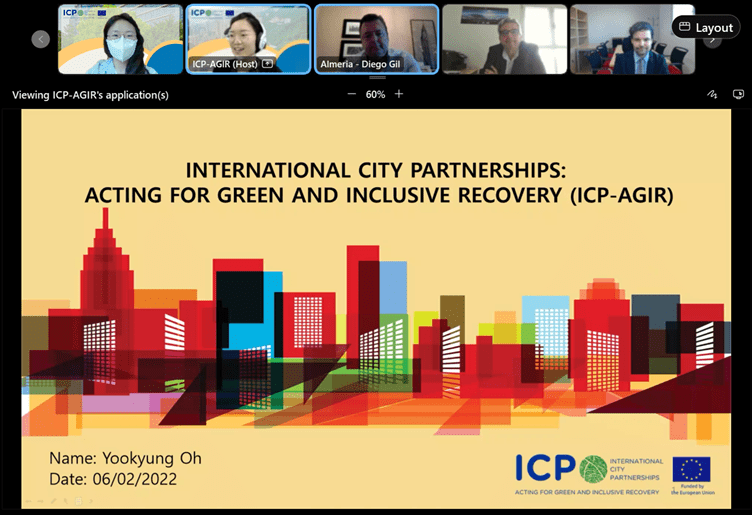 On 2 June, Almeria and Incheon met again to explore their potential topics of cooperation. At the last meeting, Almeria and Incheon shared their cities' interest in Agri-Tech and Hydrogen. For this meeting, the two cities have decided to narrow down on the topics of Agri-Tech and Hydrogen Energy.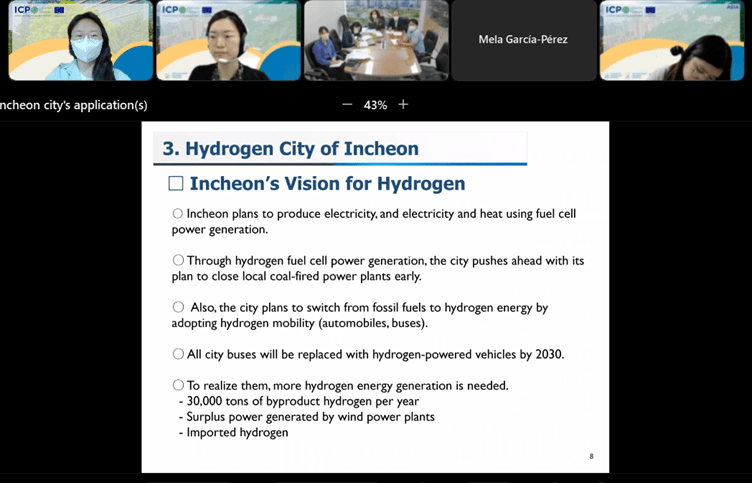 Incheon is transitioning into using renewable hydrogen energy. Since hydrogen can produce heat and electricity with no harmful emissions, it can solve many problems related to energy. In addition, Incheon is also working on energy stabilization, balancing supply-demand, and energy storage. They are planning to utilize hydrogen energy in various places in the city, such as mobility, power generation, smart farms, and even energy self-sufficiency. Incheon is also considering solar power, wind power, and fuel cell power as other types of renewable energy, however, their main focus does remain in hydrogen energy given its versatility.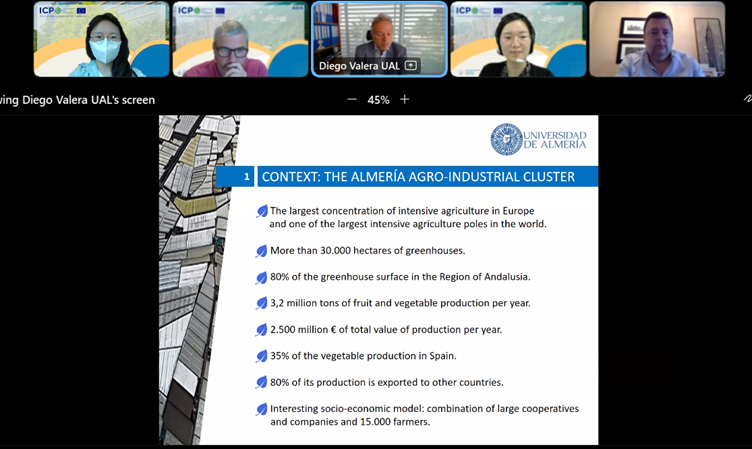 The University of Almeria led the presentation from Almeria, showcasing that Almeria is one of the places with the largest concentrations of intensive agriculture in Europe. Every year, 30,000 hectares of greenhouses provide 3.2 million tons of fruits and vegetables, which brings the city 2.5 million euros. He also highlighted that the university has hundreds of R&D projects from national funding programs and 35 European-wide research projects related to agri-food sciences, sustainability, and energy. Considering Incheon's interest in hydrogen energy, Almeria also brought ISE, an expert on green hydrogen and renewable energy in Almeria. Almeria's current research includes utilizing byproducts created by agriculture as a way to produce hydrogen energy.
With Incheon's interest in developing green hydrogen energy and Almeria's expertise, the potential for a concrete project is high. Incheon also invited the University of Almeria to participate in a hydrogen energy conference that will be happening in November. Furthermore, Incheon showed an interest in furthering cooperation between their academic sectors too. This fall, Incheon delegates plan to visit Almeria for their first study visit. Until then, the two cities will continue to discuss what other cooperation topics they can dive deeper into.