The current health crisis has had massive ramifications in cities across Asia. Unfortunately, this is not the only crisis local authorities have had to face recently. In 2020 alone, there were over two thousands disasters to hit Indonesia, a country prone and heavily impacted by disasters. In the face of increasingly frequent natural disasters in their country, CityNet Indonesian member cities took part in a 5-day workshop on ICT for Disaster Risk Management from July 5th to July 9th.
In total, 18 government officials from 5 cities (Banda Aceh, Bandung, Banjarbaru, Denpasar, Jakarta) took part in the training, equipping local government officials with the essential knowledge and skills to understand the overall framework of disaster risk management and the practical use of ICTs in disaster mitigation and preventions, preparedness, response and recovery at the local level.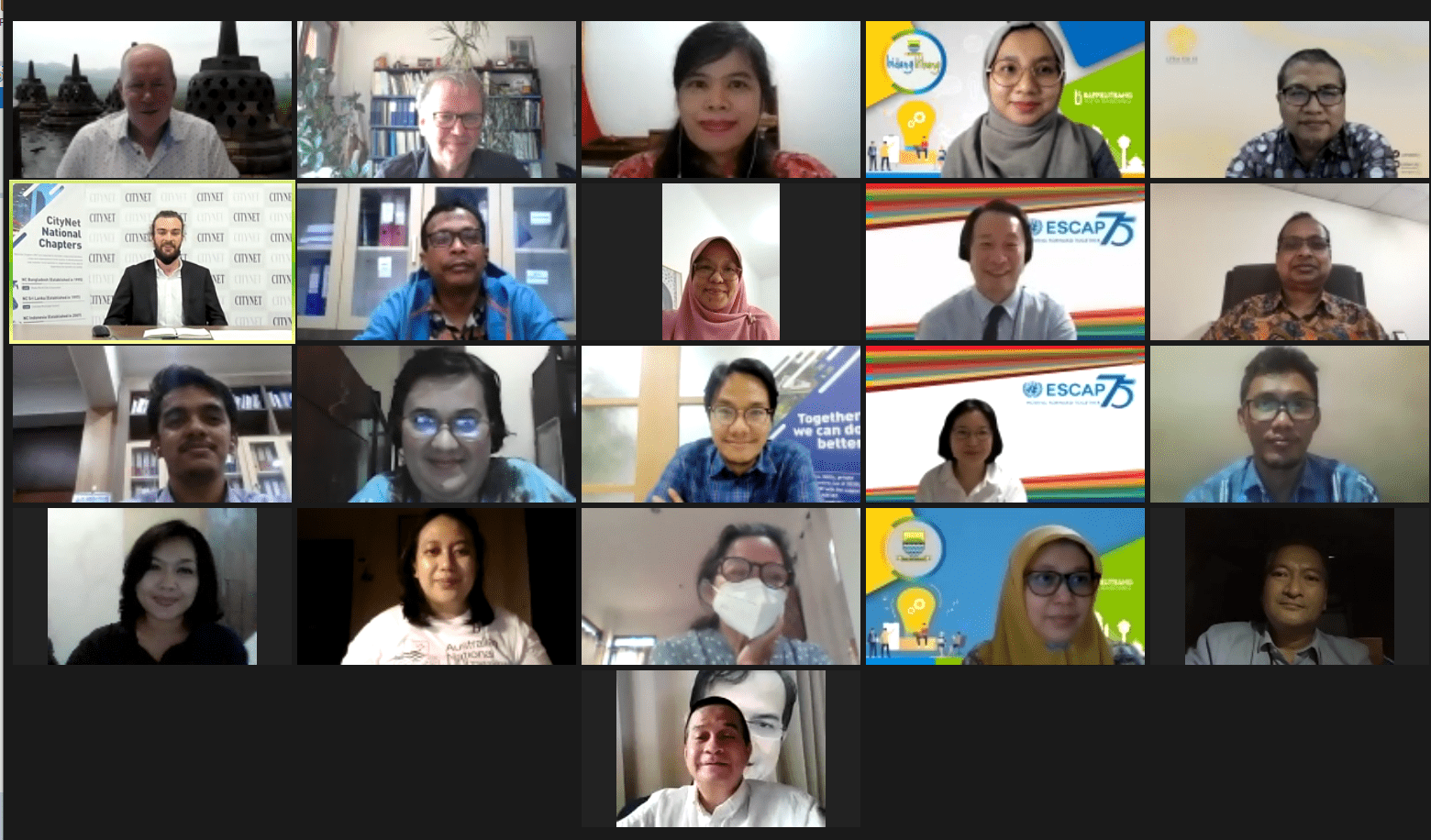 The workshop was a joint collaboration between CityNet and APCICT/ESCAP, under the leadership of Director Ko Kiyoung, featuring adapted content for the Indonesian context from APCICT's ICT for Disaster Risk Management module. The sessions, spread over a week, saw Prof. Cees van Westen and Prof. Richard Sliuzas from the University of Twente, and Dr. Manzul Hazarika and Mr. Syams Nashrullah from the Asian Institute of Technology, share their expertise and long experience on implementing ICT for DRM projects in the Asian region.
The opening session on July 5th also featured an inspiring message about the current COVID-19 situation and the role of ICT for DRM from HE. Jang Jehak, Ambassador for International Relations of Incheon Metropolitan Government, and Mr. I Gusti Ngurah Jaya Negara, Mayor of Denpasar.
Participating government officials also took an active role in the workshop, introducing their city's own status and usage of ICT for DRM and commenting on their peers' progress in an attempt to mainstream risk reduction and ICTs in local governments' activities.
CityNet is an association of urban stakeholders committed to sustainable development in the Asia Pacific region. Established in 1987 with the support of UNESCAP, UNDP and UN-Habitat, the Network of cities has grown to include over 150 municipalities, NGOs, private companies and research centers. We connect actors, exchange knowledge and build commitment to establish more sustainable and resilient cities. Through capacity building, city-to-city cooperation and tangible projects, we help our members respond to Climate Change, Disaster, and the Sustainable Development Goals.