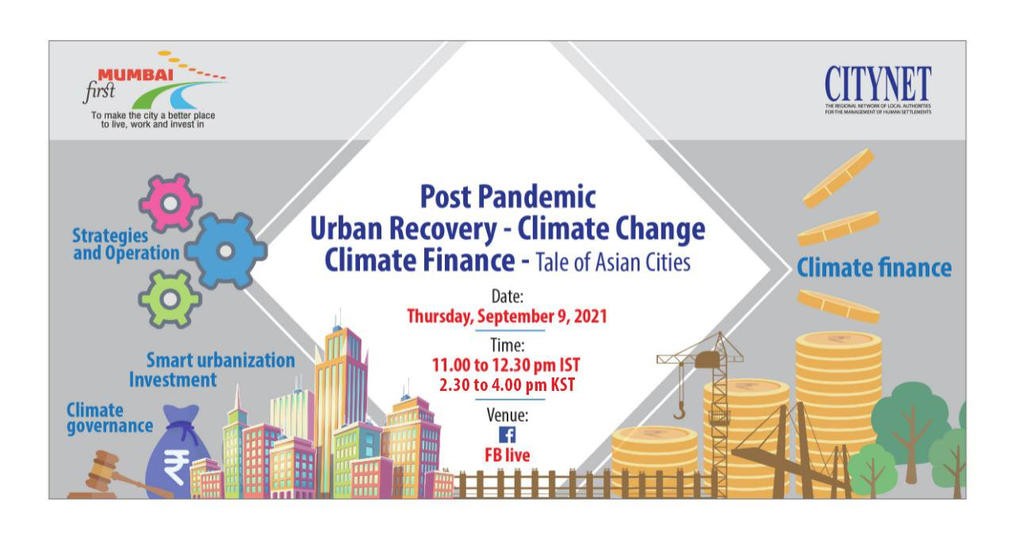 CityNet and Mumbai First are excited to extend an invitation to their last joint webinar, titled 'Post-Pandemic Urban Recovery – Climate Change, Climate Finance – Tale of Asian Cities' on 9 September 2021, from 2:30 to 4:00 PM (KST).
The webinar is a learning and insights exchange on different cities' efforts to mobilize resources for climate action despite the competing priorities and limitations the cities are facing.
Lack of access to funding is widely perceived as a major bottleneck for cities to implement sustainable climate actions. The imperative for cities to implement climate actions is crucial since they account for 70% of global carbon emissions. The COVID-19 pandemic adds financing strain to cities, and the disruption continues to make planning for climate actions in the future difficult.
The webinar hopes to add value to the recurring conversations on these enduring issues related to climate finance and mobilization in cities. City experts from Mumbai, Beijing, and Jakarta will share successes from their local financing schemes. Learn how they engage private sector and civil society to overcome resource limitations in support to their climate actions!
Register here: https://bit.ly/CityNetMumbaFirstWeb3