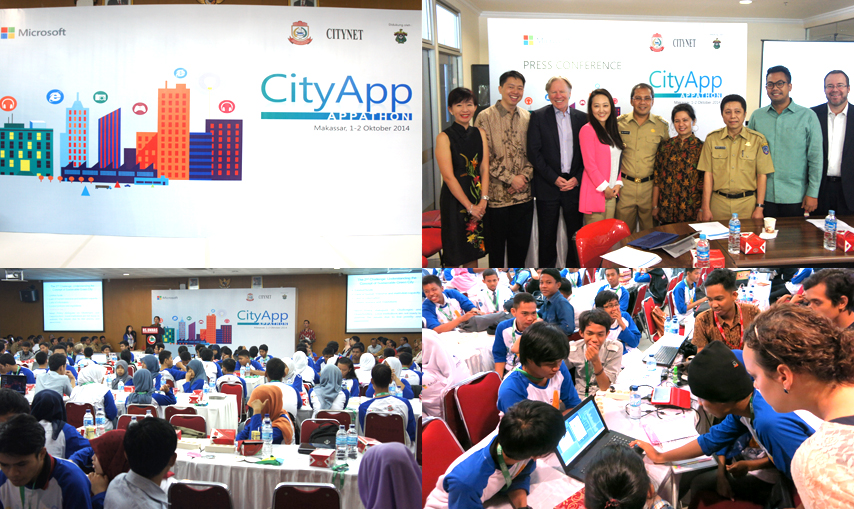 Up to 400 students from a number of high schools and universities in Makassar enthusiastically put their heads together to find solutions to urban challenges facing their city by creating apps. The second CityApp was successfully held in Makassar, Indonesia, from October 1
st
-2
nd
, jointly organized by CityNet, Microsoft and the City of Makassar. This appathon was hosted by Hasanuddin University.
Prior to the two-day event, the City of Makassar submitted nine problem statements that focused on unemployment, social security, healthcare, education, waste management, skills training and workforce development, green spaces, public housing and creating a safer city.
CityApp Makassar was officially opened by Makassar Mayor Moh. Ramdhan Pomanto who said that the collaboration between the government and private sector, in this case Microsoft, CityNet and the university in implementing Makassar as Smart City is the first initiative in Indonesia.
The winning app was created by the team from UIN Alauddin University to tackle the unemployment issue as a result of low skill sets. The crowdsourcing app showed the relevant trainings and job opportunities, making them available to the database of job seekers. The winning team will get the wildcard and automatically become the semifinalist in Imagine Cup 2015 Indonesia in the Citizenship category.
The first runner up is a team from Universitas Negeri Makassar with their application called "Super Ambulance" that enables the Public to have timely access to ambulance and medical care in times of emergency. A team from  Hasanuddin University is the second runner up with their application "Makassar Ta' Tidak Rantasa (MTR) Project", focused on cleaning up the streets of Makassar.
Representing CityNet, Deputy Secretary General Aisa Tobing mentioned, "It's such a great pleasure for CityNet to assist Makassar to find the solutions to various urban challenges facing the city, by directly engaging with the citizens and other stakeholders. As one of the cities with the highest growth in Indonesia, this is a chance for Makassar to really implement the concept of Smart City. This CityApp is expected to be the best example for other cities to come up with such initiatives".
On the fourth spot, Milgevia whose team created an app called "Daeng911.net" which allows citizens to locate vacant doctors or the closest pharmacies to the user's location, supported CityApp initiative as a great way to gather the fresh new idea from many young developers and programmers for a better city using technology. She added that it gave the young generations a chance to at least share their ideas to help build a better city. She said that CityApp has given her a great lifetime experience by talking in front of so many audiences about their idea and convincing them including high tier officials – the mayor, government officials and honorable guests from other countries.
CityNet and Microsoft will continue their collaboration in developing CityApp in other cities.