CityNet Nepal National Chapter organized and hosted an international webinar from January 27 to 28, 2021. The theme of the webinar, "Disaster Risk Reduction Management (DRRM) at Cities and Lessons Learned from Responding to COVID-19," focused on sharing good practices learned by CityNet member cities. The webinar was also focused on bringing out ideas and strategies about how to get different cities or municipalities to cooperate and assist each other in any kind of disastrous situation.
The National Society for Earthquake Technology (NSET), as the host organization of CityNet Nepal National Chapter, took this opportunity to encourage the local governments and municipalities in Nepal that try to develop DRRM policies and plans. The Chair of the Nepal National Chapter (Hetauda), the Vice-Chair and Executive Committee member (Lalitpur), CityNet Yokohama Project Office, and other national and international members provided guidance and support to this international webinar. This webinar was held in conjunction with the 23rd Earthquake Safety Day in Nepal, an event to raise awareness among citizens and policy makers alike about the importance of DRRM. Earthquake Safety Day has taken place every year since 1999 and was a response from the government to NSET's request.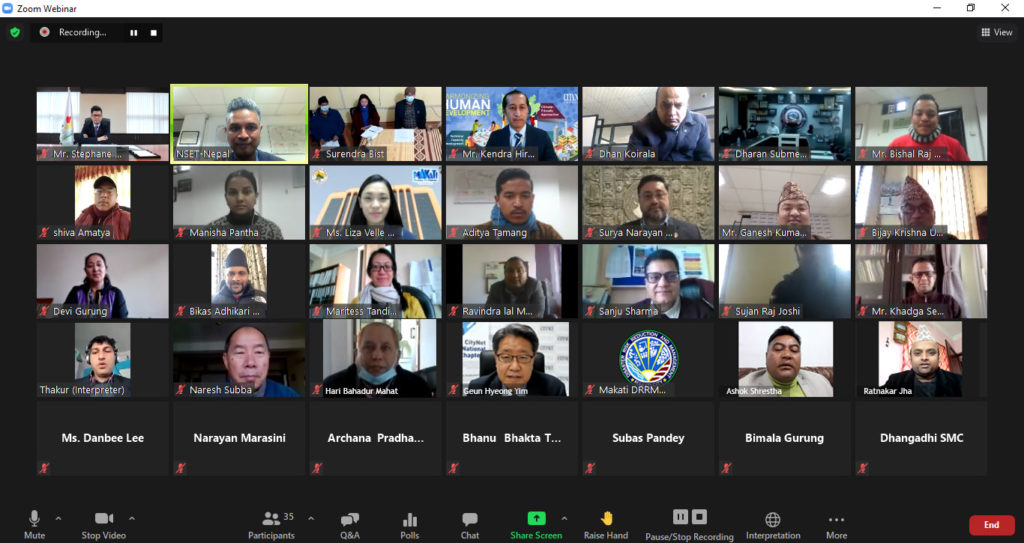 The first day's session focused on responses to COVID-19 locally. The opening remarks were delivered by Mr. Hari Bahadur Mahat, Mayor of Hetauda, CityNet CEO, Mr. Geunhyeong Yim, and Mr. Ashok Kumar Byanju (Shrestha), Mayor of Dhulikhel Municipality delivered the opening remarks. In his opening remarks, Mr. Yim expressed how the emergence of COVID-19 has demonstrated the importance of cooperation and aid between cities when it comes to disaster response. He also shared on some of the projects and collaborations that CityNet has undertaken with municipalities in Nepal.
Following the opening remarks, Ms. Liza Velle Ramos, on behalf of Mayor Abby Binay, Makati City Government shared on how Makati City distributed food, financial assistance, and medical emergency supplies during the COVID-19 period. Makati was able to use their Makatizen card to provide financial assistance remotely, keeping citizens safe at home. Dr. Stephane Wen-Wei Ku from Taipei City Hospital Renai Branch, City of Taipei discussed the current state of COVID-19 in Taipei, emergency response systems, preventative measures, and innovative ideas to combat the pandemic. Mr. Ratnakar Jha of Biratnagar Metropolitan City followed up by sharing experiences and lessons learnt on preparedness, risk reduction and response to COVID-19.
Finally, Mr. Surya Narayan Shresta from NSET summarized the session and thanked the participants and presenters.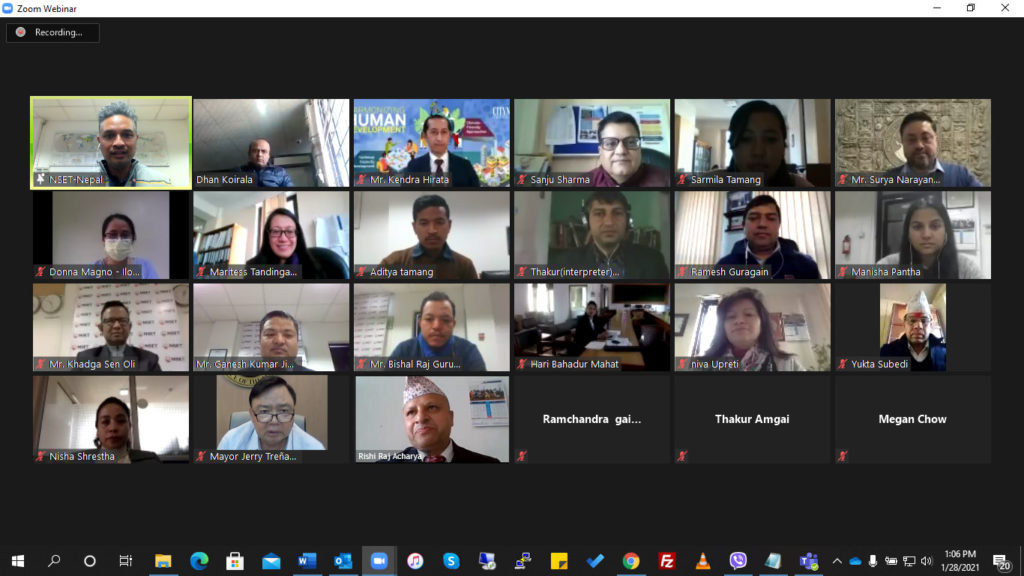 During the second session, the focus was on participatory and inclusive resilience building to promote proactive municipal DRRM. CityNet Yokohama Project Office Director of Programs, Mr. Kendra Hirata, shared how CityNet contributes to building disaster resilient cities. Mayor Jerry Trenãs of Iloilo City followed with a presentation on award-winning DRRM strategies and how Iloilo City dealt with the pandemic situation, from the distribution of food from community kitchens to the mass production of PPEs to keep responders safe from the virus. The last presentation of the session was given by Mr. Rishi Raj Acharya, from Nepal's Ministry of Federal Affairs and General Administration, on possible strategies for proactive municipal DRRM in Nepal. He focused on how Nepal is more prone to disaster and thus needs more preparation to face these disasters in a resilient manner. Finally, there was a time for open discussion among the participants about the different presentations they had seen over the past two days.
Participants of the webinar were also encouraged to help each other during the difficult time of the current global pandemic. It is important to note that adaptation and mutual support is more than pivotal to prepare and respond effectively to COVID-19. The best practices from other cities for better preparedness, risk reduction, response along with effective DRRM were also highly stressed during the international session.