CityNet is pleased to introduce you to a new series "PAs Interview You." This interview series spotlights our remarkable and dedicated international staff members contributing to city-to-city cooperation leading to sustainable development all over the world. In this series, our bright and curious program assistants (PAs) become interviewers and interview the staff of CityNet about their work and life stories, concluding with one special question. Through this series, we hope to reach out to our members and a wider global audience to share about CityNet's talents and numerous global initiatives for creating a better world while inviting others to know more about CityNet's work and join our Network of Cities.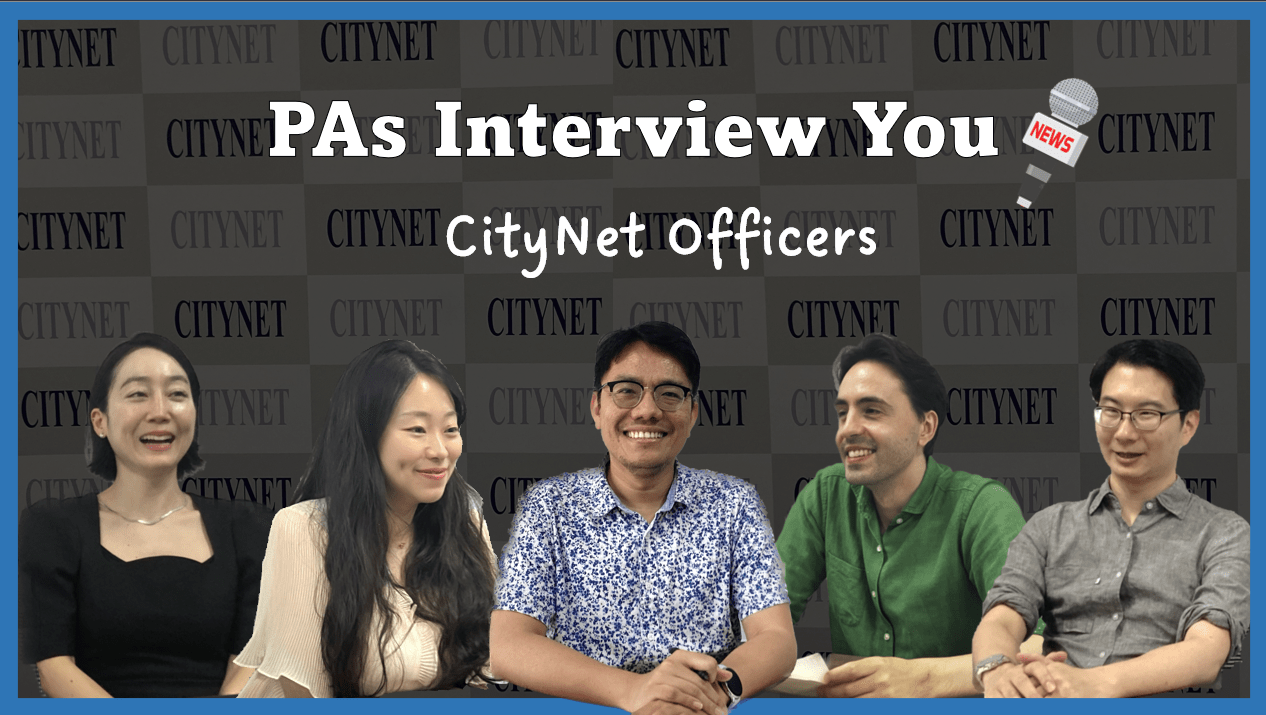 This time, our honoured interviewees are all of the CityNet officers. We will introduce them briefly to their roles and talk about their best memories in CityNet. Jamie Paulo Mora serves as the Deputy Director of Programs, Hui Qian as the Senior Programs Officer, and Christopher Di Gennaro, Bohyun Kim, and Jiyon Shin as Programs Officers. Erin Um, most recent addition to the team of officers, is not featured in this article but her new bright journey with CityNet will be featured in other articles. With their combined experiences at CityNet, they will lead us to a meaningful CityNet story.
Tasks of CityNet Officers and their best memory in CityNet
PA: Hi! Welcome to the PAs Interview you. Could you briefly describe your tasks at CityNet and share your favourite memory from your time here?
Jaime Paulo Mora: I'm Deputy Director of Programs and my primary responsibility involves managing the capacity development programs. I oversee the implementation of training programs in partnership with member cities and organizations. Also, I develop cluster programs such as city-to-city exchanges and technical assistance programs. CityNet aims to achieve sustainable urban development by enhancing the capacities of local officials and encouraging their active engagement with communities. One of my most memorable experiences was during the 2019 Executive Committee Meeting in Lalitpur, where the dedication of the mayor and his team shone through various public events, enabling us to interact with local residents, communicate CityNet's initiatives, and promote our services.
Hui Qian: I'm Hui Qian, a Senior Program Officer. My role primarily involves managing and engaging CityNet members, ensuring their active participation in our programs, and expanding our network. I also facilitate C2C knowledge sharing and oversee the EU-funded project. A memorable experience occurred during my recent mission trip to Bangladesh when local government officials took me to a landfill site, despite the overwhelming smell of the non-treated biowaste, our focal point demonstrated dedication by opening the car door to take high-quality photos for record. Her passion showed me how much she cares about their citizens and this reinforced my belief that CityNet's capacity-building programs for officials can have a big positive influence on citizens in their respective cities.
Christopher Di Gennaro: As a Program Officer at the CityNet Secretariat, my primary role is managing the Urban SDG Knowledge Platform. It showcases best practices in sustainable urban development aligned with SDGs. My core responsibilities include promoting the platform, collecting and uploading new case studies, organizing the SDG Awards program to encourage members to submit new cases, and developing free online courses on urban topics. One of my standout experiences was during last year's CityNet Congress in Kuala Lumpur. We held two ExCom meetings and a general council meeting back-to-back. Our member cities were very vocal during these meetings, and it was nice to see them in governing mode. The SDG Awards program that was held in Congress was also a challenge because we had a 12-person panel and an exciting, unpredictable live voting session. I'm committed to supporting the SDG Platform as it can contribute to sustainable development with its localization toolkit.
Bohyun Kim: As Program Officer, my main tasks can be grouped into three areas: 1) overseeing the annual ExCom meeting; 2) engaging in communications with member cities in Nepal and the Republic of Korea, as well as the CityNet Yokohama Project Office (CYO); 3) contributing to developing capacity-building programs, such as the disaster preparedness benchmark workshop in Kobe, Japan. Two experiences stand out for me. One was counseling 31 people at an International Organization Career Fair, where I assisted students and answered questions while promoting CityNet at our booth. The other was managing a visit from the CYO. This prompted our collaboration and opened our active communication between the CityNet secretariat and the CYO. I'm excited to showcase more collaboration to benefit our members.
Jiyon Shin: As Program Officer of the CityNet Secretariat, my main role involved producing publications. We build partnerships with potential members and communicate with them. Also, we look out for new chances of C2C, city-to-city collaboration. Though my working period was comparatively short, working on zero waste infrastructure and real-time digital dashboards that can check the emitted methane was the most impressive memory. This dashboard was meant to help developing cities, and it was a fun and exciting project. I also enjoyed working with our program officials and assistants. they are smart, full of good ideas, and very creative. Overall, it's great to work with a diverse team of people who are kind and share a strong desire to create a better world.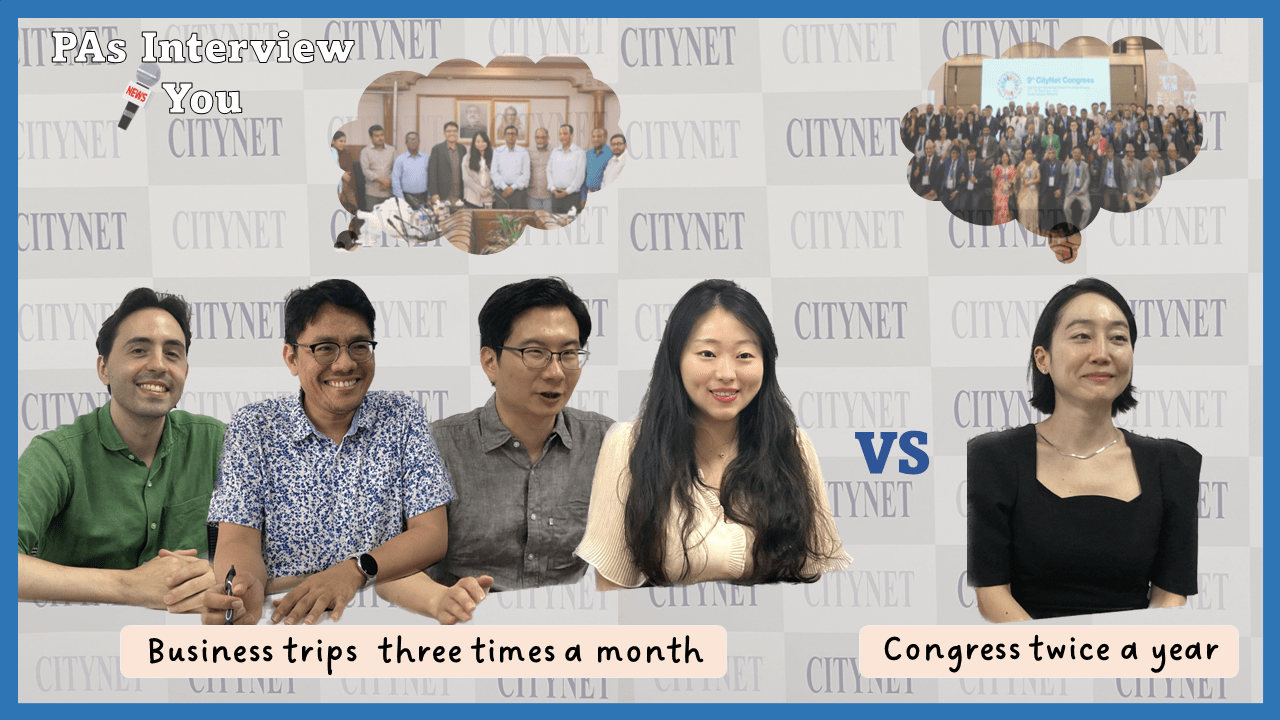 Balance game: Business trips three times a month vs hosting Congress twice a year
PA: Thank you for sharing valuable stories. This will be our last question. Currently, CityNet hosts Congress every four years and often goes on a business trip for many reasons. As an officer, would you prefer to go on a business trip three times a month or host Congress every half of a year?
In response to the question, only one officer, Dr. Jiyon Shin, answered holding Congress twice a year because of her childcare responsibilities. In contrast, four of the officers selected going on three business trips a month, highlighting holding Congress biannually might be physically impossible. They pointed out that frequent business trips can be possible and can give CityNet opportunities to engage with many cities, understanding .
The conversations with CityNet's Program Officers have illuminated their roles and the impact of CityNet's work. These discussions have emphasized the significance of capacity building, Urban SDG Knowledge Platform, and forging partnerships. As CityNet persists in its mission of promoting sustainable urban development and global collaboration, let these conversations be a wellspring of motivation, propelling us toward a more sustainable and interconnected world. Should you have any inquiries stemming from this interview, we eagerly await your questions and further engagement.
This article was the last article co-written by Seoyoung Lee and Ara Ko. Ara Ko, who can be reached at pg.assistant3@citynet-ap.org, and the new bright program assistant, Hyeongjun Han will continue the interview series.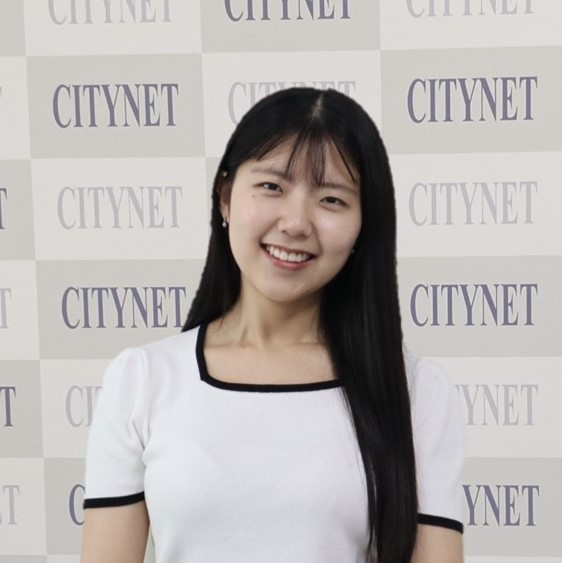 Seoyoung Lee is a Program Assistant at CityNet, primarily assisting capacity building and cluster activities. Prior to joining CityNet, she worked in the Urban Economics Spatial Big data lab as an intern for a year. She is pursuing a bachelor's degree in urban planning and Real Estate.