The 'How Safe is Your City? A Masterclass on Urban Safety' successfully concluded its course with a live review session on June 27, 2023. The session was jointly organized by CityNet Secretariat and Safetipin, allowing learners to interact with course instructors and enhance their learning experience.
The Urban Safety Masterclass online course provided exclusive training to CityNet members, including local authorities, city planners, and stakeholders involved in urban development and safety.
During the online live session, over 30 participants joined to engage in self-initiated discussions and reflections.
"For my own interest, I applied for this course. I am glad that I have not made a wrong decision," said Nilufa Akhtar from Dhaka North City Corporation, Bangladesh. Akhtar, sharing her own experience as a female in the city, said, "Before taking the course, I could sense some uncomfortable situations, but I could not identify what the problems were. After the safety audit, I can identify the causes for my uncomfortableness. I can suggest what should be there," she added.
Ervie Rodriguez, another participant from the City Government of Santa Rosa, Philippines, shared his findings on the safety of his current residency, leveraging the knowledge gained through the course. He highlighted several factors that contributed to the area's insecurity, such as the absence of streetlights, lack of traffic lights, and poorly maintained pedestrian roads. "This is very dangerous here, especially during the nighttime. It is unfavourable to women," Rodriguez explained.
Professor Pawinee Iamtrakul, a Director of the COE in Urban Mobility Research and Innovation at Thammasat University, also attended the session to deliver a lecture on road safety for vulnerable road users. Professor Iamtrakul kindly incorporated a case study from Bang Kok, Thailand, into her lecture to enrich participants' understanding of the significance of inclusive design on urban safety and sustainability.
Following the lecture, the Safetipin instructors facilitated a solution-building session. They shared data compiled from the MySafetipin app and its Safety Audit to suggest actionable points for further enhancing urban safety.
The live review session marked a meaningful culmination of the course, sparking insightful discussions and empowering participants with practical knowledge. The success of the course has encouraged CityNet Secretariat to continue collaborative efforts in offering more learning opportunities through its Urban SDG Knowledge platform.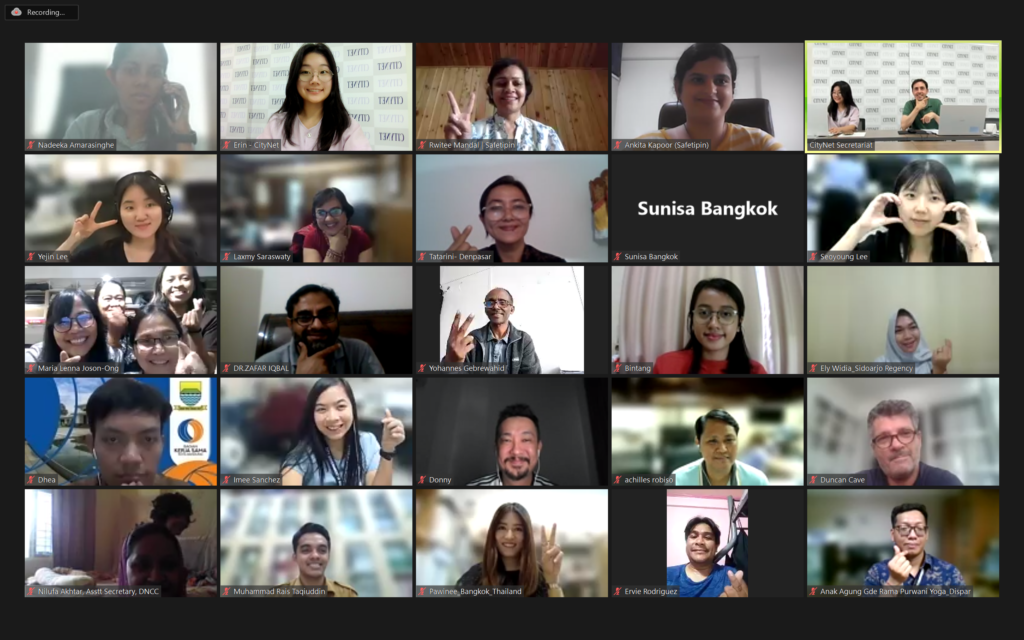 This article has been written by Operations Assistant Yejin Lee.
CityNet is an association of urban stakeholders committed to sustainable development in the Asia Pacific region. Established in 1987 with the support of UNESCAP, UNDP and UN-Habitat, the Network of cities has grown to include over 150 municipalities, NGOs, private companies and research centers. We connect actors, exchange knowledge and build commitment to establish more sustainable and resilient cities. Through capacity building, city-to-city cooperation and tangible projects, we help our members respond to Climate Change, Disaster, and the Sustainable Development Goals.