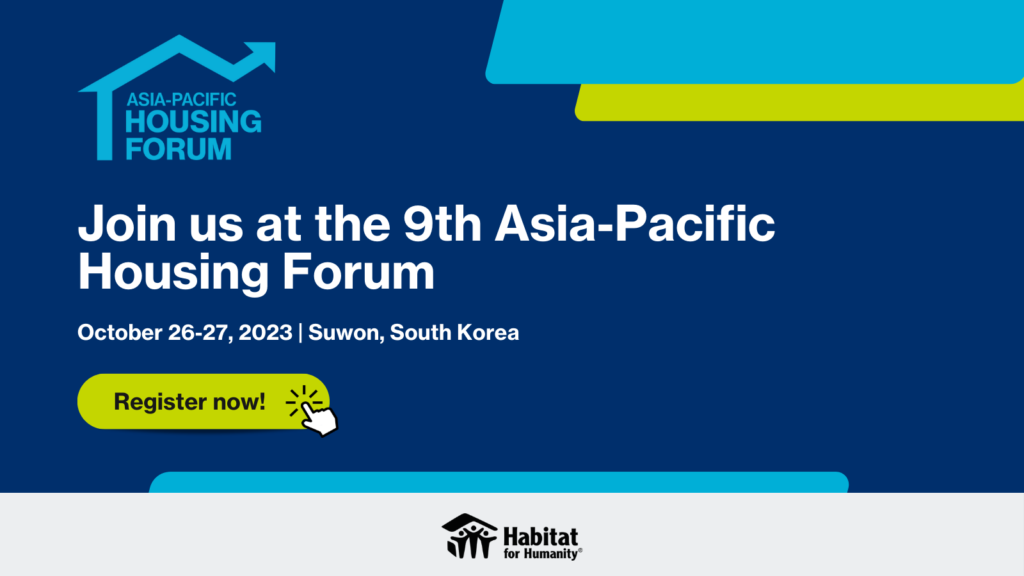 Please mark these fantastic back-to-back events that will be held in Suwon for 8th Asia-Pacific Urban Forum (APUF-8) (October 23-25) & the 9th Asia-Pacific Housing Forum (Oct 26-27).
Across cities in Asia and the Pacific, rapid urbanization and increasing population density have intensified human vulnerabilities and worsened existing inequalities. Now, more than ever, partnerships and collaboration are needed for more concerted, data-driven, and sustainable approaches within these urban ecosystems. The twinning of international forums in Suwon, Republic of Korea, serve as the prime platform for the exchange and sharing of ideas and actionable solutions among governments, organizations, civil society, academic institutions, the private sector, and housing sector stakeholders.
The 8th Asia-Pacific Urban Forum (APUF-8) to be held on Oct 23-25,  co-organized by the United Nations Economic and Social Commission for Asia and the Pacific (ESCAP) and Suwon City, in strategic partnership with the Ministry of Land, Infrastructure and Transport of the Republic of Korea, will bring together diverse stakeholders to synthesize innovative approaches and actions for sustainable urban development. The 9th Asia-Pacific Housing Forum (Oct 26-27), an associated event to APUF-8, complements the urgent call by the United Nations and its partners for inclusive and sustainable development with its focus on the promotion of decent, affordable housing. Organized by Habitat for Humanity, the Housing Forum will focus on emerging issues in informal settlements in Asia-Pacific. 
Both events will take place in Suwon, however the registration will be carried out separately.
8th Asia-Pacific Urban Forum (APUF-8) (Oct 23-25): https://indico.un.org/event/1005558/registrations/11261/
9th Asia-Pacific Housing Forum (Oct 26-27): https://www.aphousingforum.org/register/