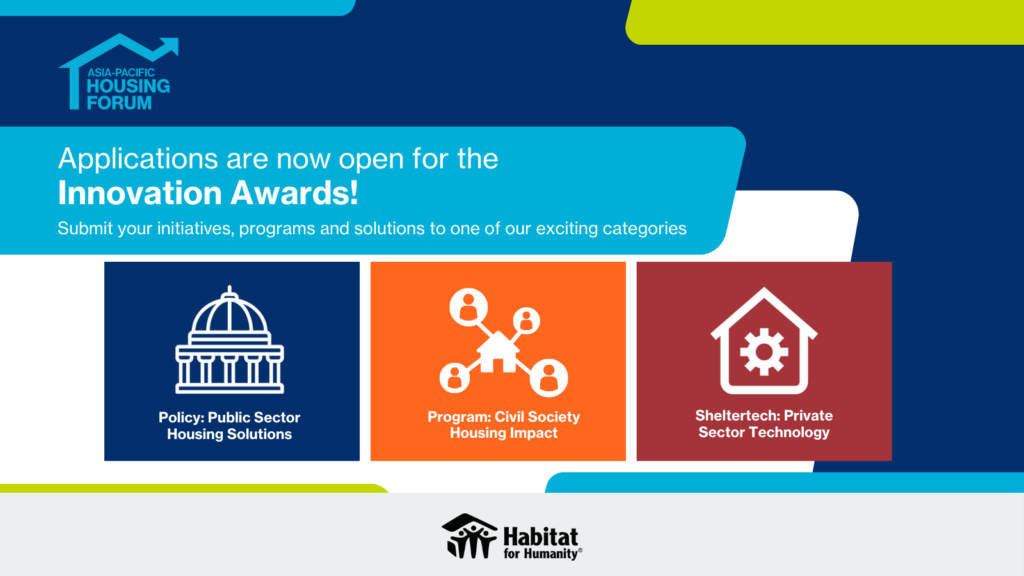 We are excited to announce the launch of one of the most awaited events at the Asia-Pacific Housing Forum! This year's Innovation Awards will recognize groundbreaking affordable housing innovations in the policy, program and sheltertech categories.
Finalists will receive an expenses-paid trip to Suwon, South Korea, to attend the Asia-Pacific Housing Forum, network with key housing decision-makers, and showcase their innovation to a live audience and a panel of expert judges. Prior to that, they will receive presentation coaching and have their work featured across Habitat for Humanity's regional audiences. Winners will receive a cash prize of US$ 6,000!
The Awards invite applicants in the following areas:
Policy: Public Sector Housing Solutions
Program: Civil Society Housing Impact
Sheltertech: Private Sector Technology
Don't miss this incredible opportunity to contribute to the affordable housing sector and gain recognition for your work. Applications are open until August 4 (now extended to August 20)!
And don't forget to subscribe to our newsletter: https://bit.ly/Subscribe-APHF