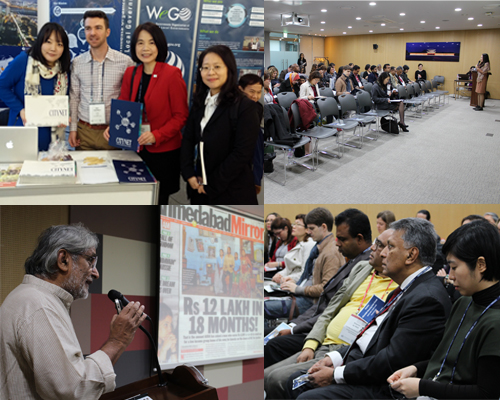 On April 8th, CityNet hosted a side event at Seoul City Hall on the topic of Affordable Housing as part of the ICLEI World Congress. Speakers included Kirtee Shah, the Honorary Director of Ahmedabad Study Action Group, Gloria Alzate, the Secretary of Environment and Natural Resources of Medellin, Jinhee Park, the Principal Architect of SSD Architecture, MeeYoun Jin, a Researcher from Korea Land and Housing Institute and Honorary Betty Lourdes Tabanda, the City Councilor of Baguio City.
Each of the speakers presented a unique aspect of Affordable Housing that included case studies, exploring environmental challenges, understanding architectural opportunities and sharing ideas. The CityNet side event was attended by more than 50 representatives from around the world.
This side event is part of the ICLEI World Congress hosted by ICLEI Local Governments for Sustainability and the Seoul Metropolitan Government from April 8, 2015 to April 12, 2015 in Seoul. The event gathered more than 2,500 urban stakeholders from 75 countries to explore various issues of development and urban sustainability.
The Congress was a great success. In addition to the Affordable Housing session, CityNet also hosted a booth at the Congress main venue, Dongdaemun Design Plaza (DDP), throughout the five days of the Congress.
This booth gave DDP visitors and ICLEI Congress attendees the opportunity to learn about CityNet and the value of networking with local authorities in the Asia Pacific region.