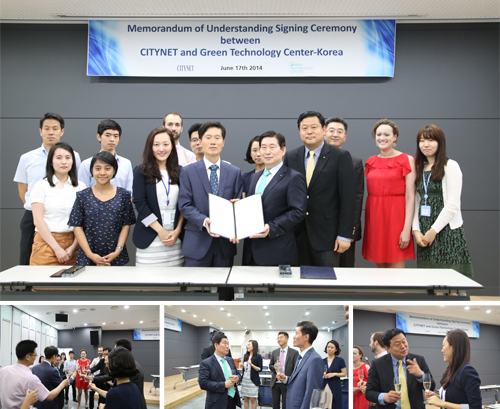 CityNet and the Green Technology Center – Korea (GTC-K) have formalized their working relationship and committed to a long-term partnership towards building sustainable cities in Asia and across the globe.  The Memorandum of Understanding (MoU) signing ceremony was held on June 17, 2014 at the CityNet Secretariat in Seoul. The MoU was signed by President Changmo Sung of GTC-K and Assistant Secretary General Yeonsik Yoo of CityNet.
GTC-K and CityNet are committed to building greener and more sustainable cities; GTC-K through technology and CityNet through a network of urban stakeholders.  CityNet is honored to have the expertise and support of GTC-K and CityNet equally hopes that its network and urban partners will provide new windows of opportunity for GTC-K.
A number of projects have already been planned between the two organizations; GTC-K agreed to participate in CityNet's 2014 Executive Committee meeting in Hue, Vietnam and CityNet will play a role in mobilizing government officials in the Asia Pacific region for GTC-K international workshops. In addition, GTC-K is planning to conduct a feasibility study on Waste-To-Energy (WTE) in Nepal.