CityNet held its first online session of the Urban Resilience Practices from Northeast Asian Cities Lecture Webinar series on December 1, 2020 with over 100 international participants.
CityNet partners – WRI China and Beijing ArchiCity Consulting Ltd. – co-organized the session with CityNet.
The session opened with a solidarity video greeting from Haiming Xing, the Chinese Ambassador to South Korea. Ambassador Xing recognized the importance of holding learning sessions addressing urban resilience in the region. He also thanked CityNet for organizing the knowledge exchange in a hope to strengthen more city-to-city exchanges.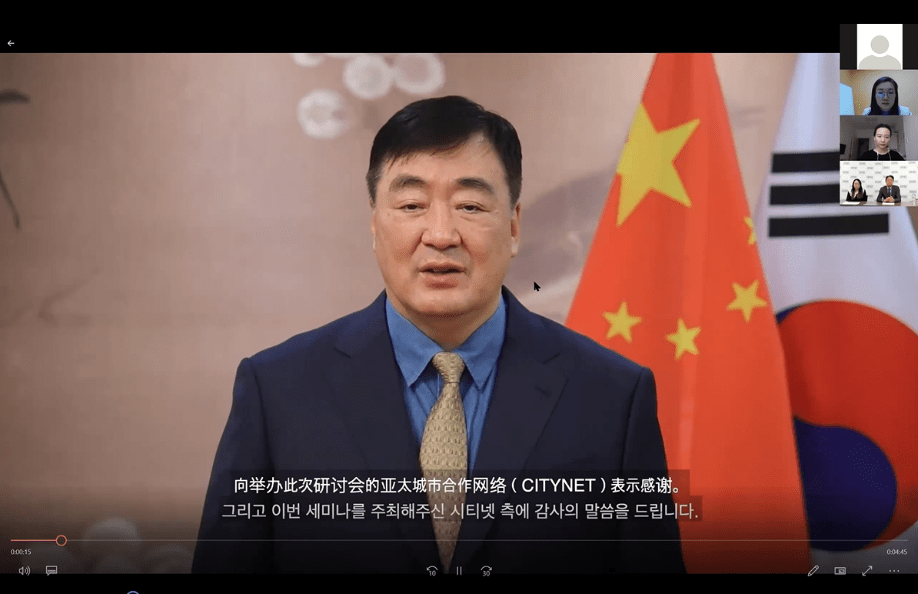 Meanwhile, CityNet Chief Executive Officer (CEO) Geun Hyeong Yim acknowledged the presence of Chinese participants. He looks forward to building prospects for city-to-city cooperation with Chinese urban stakeholders. City-to-city learning is an important process in developing and sharing urban solutions for a better urban future.
Ms. Wenyi Xi from WRI China presented research findings on the need for cities to implement more urban adaptation measures to protect their vulnerable groups. These measures include mainstreaming information on climate risks, building climate resilience, and prioritizing nature-based solutions to manage risks.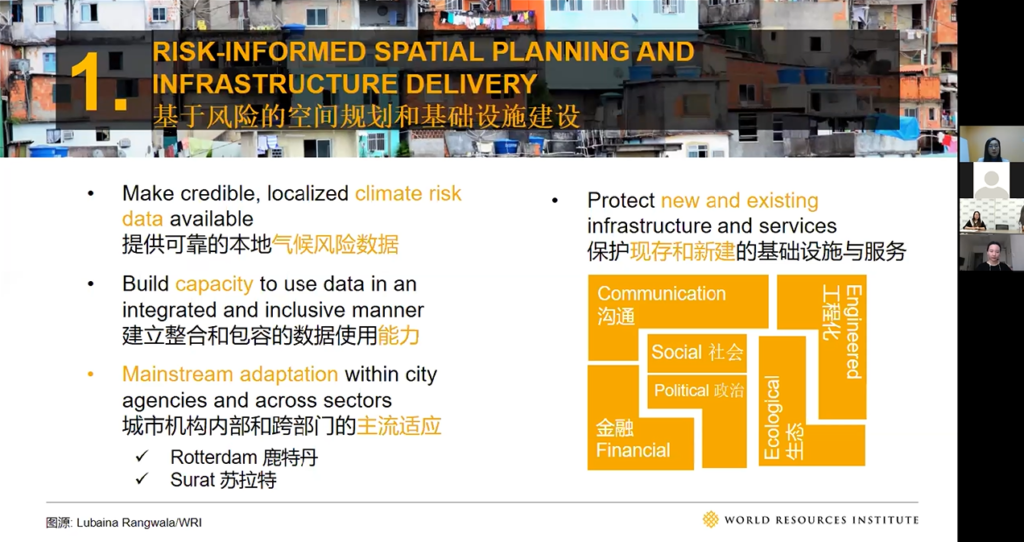 Dr. Zhao Zeng from Tianjin University presented the details of the Flood Footprint Model, which can help assess the economic impacts of flood on the production supply chains. Dr. Zeng said the model can help fill the research gap on the lack of indirect economic impact assessment brought by floods. It can benefit the city governments in developing and reforming policies on mitigating floods and building resilience. This model is currently being tested with more practical cases.
For more information about the webinar, you can watch the recorded videos in English and Chinese on our Youtube channel. The English version is embedded below.
The presentations of the speakers can be found below: