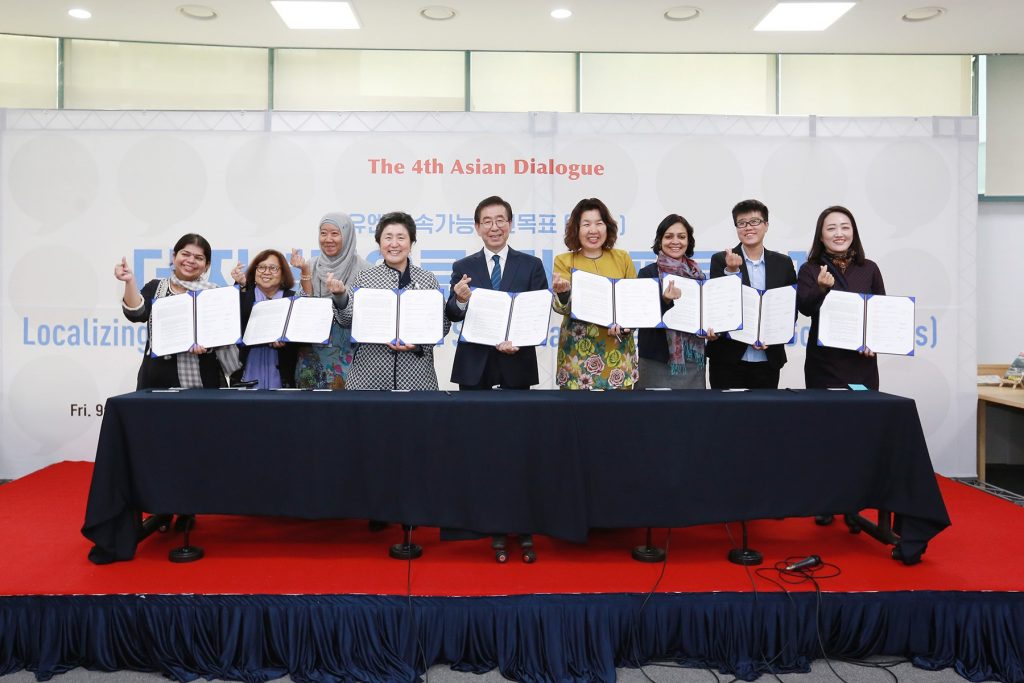 The 4th Asian Dialogue was held on the 9th of November with a slogan of 'higher gender equality, more localizing' at Seoul Women's Plaza. The forum was co-hosted by Seoul Foundation of Women & Family, Huairou Commission, Korea SDGs Network, and CityNet.
Asian Dialogue is an international network for knowledge sharing and discussion on challenges that Asian women encounter and best practices. With its leading role in terms of communication and cooperation for women's rights in Asian cities, the forum dealt with an implementation of SDG 5 (Achieve Gender Equality and Empower All Women and Girls) and SDG 11 (Make Cities and Human Settlement Inclusive, Safe, Resilient, and Sustainable) with monitoring results on the issues.
The first session discussed the topic of 'Monitoring on SDGs in Asia'. CityNet Project Coordinator Seung Hyeon Han presented the importance and benefits of best practice sharing between cities. It was then followed by an introduction of Urban SDG Knowledge Platform co-developed by CityNet, Seoul Metropolitan Government (SMG), and UNESCAP. CityNet has been sharing sustainable development examples through the online platform (http://urbansdgplatform.org) as well as supporting city-to-city cooperation and knowledge sharing to achieve 2030 agenda for Sustainable Development.
In the second and third sessions, a topic was mainly focused on SDG5 and SDG11.
In a later session, Mayor Park Won Soon delivered a speech on main policies for increasing gender equality within the city. Mayor Park made a pledge to make an organizational restructure and establish a ground to take action against sexual assault as well as advocating women's rights.
A pledge consisting of a set of statements to share policies for enhancing women's rights, raising awareness of gender equality and SDG 5 and SDG 11 implementation was signed by eight people; Mayor Park Won Soon, Seoul Foundation of Women & Family President K.H. Angela Kang, Gender Quality Office Researcher of Taipei City Government Chingyi Yeh, Huairou Commission Asia Regional Coordination Committee Advisor Fides Bagasao, Huairou Commission Senior Program Administrator Sri Husnaini Sofjan, Penang Women's Development Cooperation CEO Ong Bee Leng, Safetipin Senior Program Manager Rwitee Mandal, Jagori Project Manager Shruti Batra, and CityNet Director of Programs Youngmin Chang.
Director Chang emphasized the importance of the forum and stated that it will be a foundation for the development of women's right in the achievement of SDGs. Furthermore, President Kang and Senior Program Administrator Sofjan pledged to continue seeking for practical solutions to implement sustainable gender equality goals in Asia.