CityNet supported its National Chapter India host, Housing and Urban Development Corporation Limited (HUDCO) – Human Settlement Management Institute (HSMI), in the conduct of its webinar on "Affordable Rental Housing for Migrant Workforce in Post COVID-19 Era" on August 27, 2020.
The online webinar tackled the present state of rental housing in India, the global discourse on the rental housing models for migrants and urban poor and the potential and viability of the newly launched Affordable Rental Housing Complexes (ARHCs) Scheme in India that is being offered for the migrant workers/urban poor.
CityNet Secretary General Vijay Jagannathan expressed support to HUDCO for organizing the seminar as he underscored the importance of affordable housing in ensuring sustainable urbanization.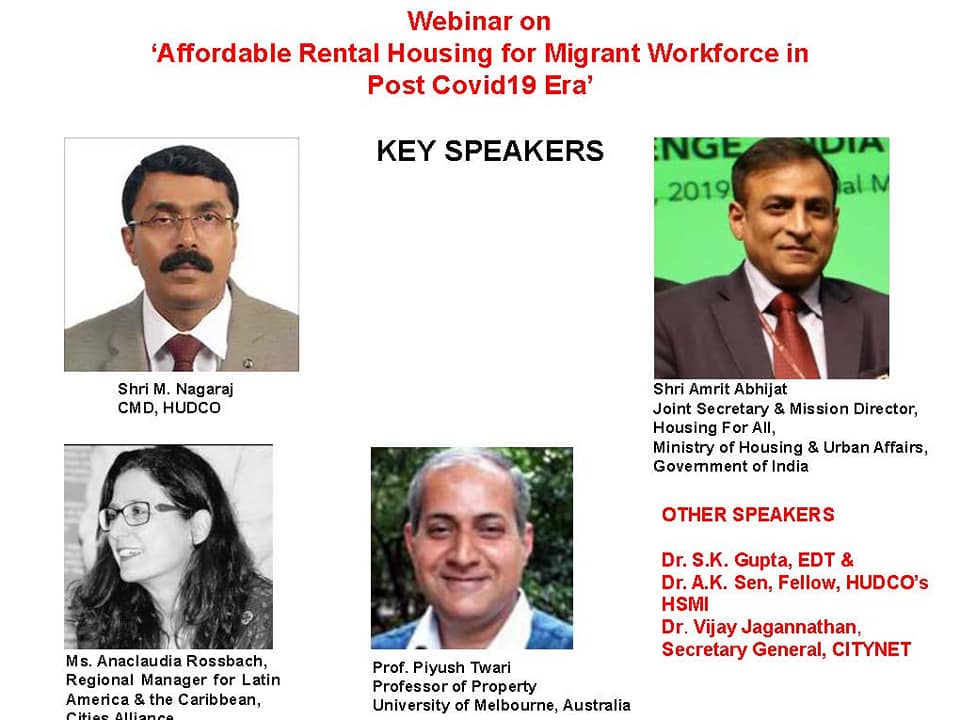 Several speakers became the highlights of the webinar as they presented different country experiences on rental housing. Anaclaudia Centero Rosbach of Cities Alliance presented the rental housing model of Sao Paulo, which has produced good outcomes in filling the gaps of housing shortage in the city. From the University of Melbourne, Professor Piyush Twari discussed rental housing models in Australia, which could be a good takeaway for India.
Delivering the closing statement, Secretary General Vijay said that affordable rental housing should be safe and should contribute to the livability of the community. There is a need to secure policy support for rental housing as it can offer greater flexibility and better cost than home ownership, especially for the migrant workers.  He also said that learning best practices on housing from different cities can enable innovations and increase capacities for local housing providers.