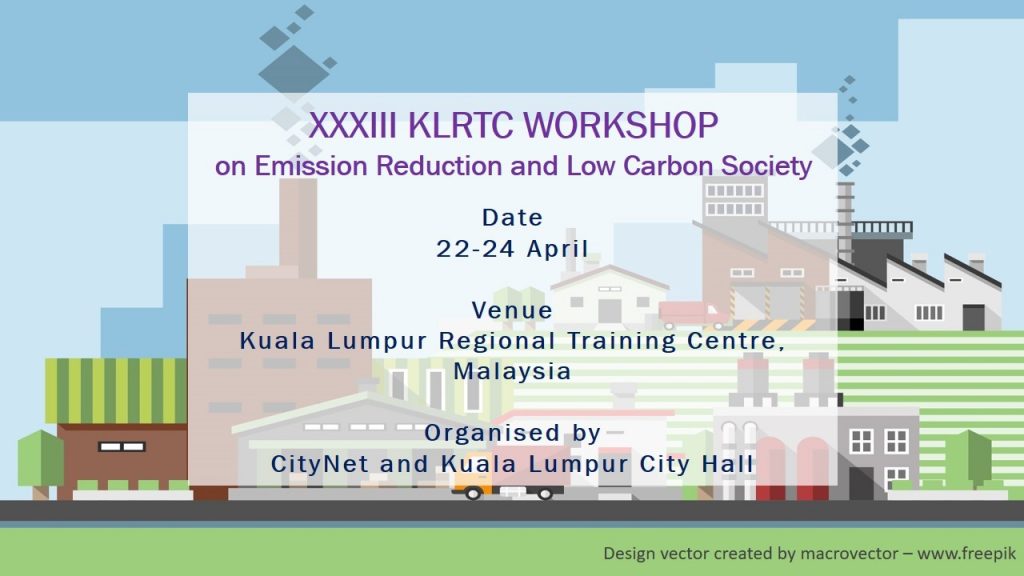 Based on the recent infrastructure cluster study conducted by CityNet in collaboration with the Korea Associates Business Consultancy "Smart Cities, Mobility, Walkability and Emissions", it shows that the answers to the survey on emissions was surprising in that most cities did not measure emissions or have emissions easily available to the respondent, or have a clear idea of levels of emissions from transportation.
In addition, the study shows that in Asian cities mobility accounts for about 20% of emissions and 33% of carbon emissions come from buildings.
Against this backdrop and as emissions and air quality are major issues, in partnership with the International Urban Cooperation European Union Asia Project (IUC EU – Asia), CityNet is organising a workshop on GHG Emission Reduction and Low Carbon Society from 22-24 April hosted by the Kuala Lumpur Regional Training Center (KLRTC) under Kuala Lumpur City Hall. The workshop will feature speakers from the World Resources Institute, Institute for Transport and Development Policy, Asian Development Bank, and C40 Cities. This workshop also offers a deep dive on developing opportunities for cross-sector collaboration on climate action led by CDP.
The proposed workshop focuses on urban solutions to climate change related challenges that cities need to address. The training is geared towards climate change mitigation and adaptation actions particularly focusing on emission reduction and building low-carbon society on the city level:
Basic Principles and Climate Actions on GHG Emission Reduction
Climate Action Plan in Asia Pacific
Low Carbon Solution Policies
Strengthening Infrastructure to Support the Implementation of Low-Carbon Strategies
The above key points are in line with the Global Covenant of Mayors for Climate and Energy (GCoM) vision that is undertaken as part of IUC EU – Asia's mandate in promoting and supporting action to combat climate change and move to a low-carbon society in the region. This workshop also serves as a continuation of Training of Climate Change Adaptation in Iskandar, Malaysia from 19-21 March 2019 by IUC EU-Asia for GCoM.
The Global Covenant of Mayors for Climate & Energy (GCoM) is an international alliance of cities and local governments with a shared long-term vision of promoting and supporting voluntary action to combat climate change and move to a low emission, resilient society. The International Urban Cooperation (IUC) project of the European Union supports the implementation of the GCoM in Asia.