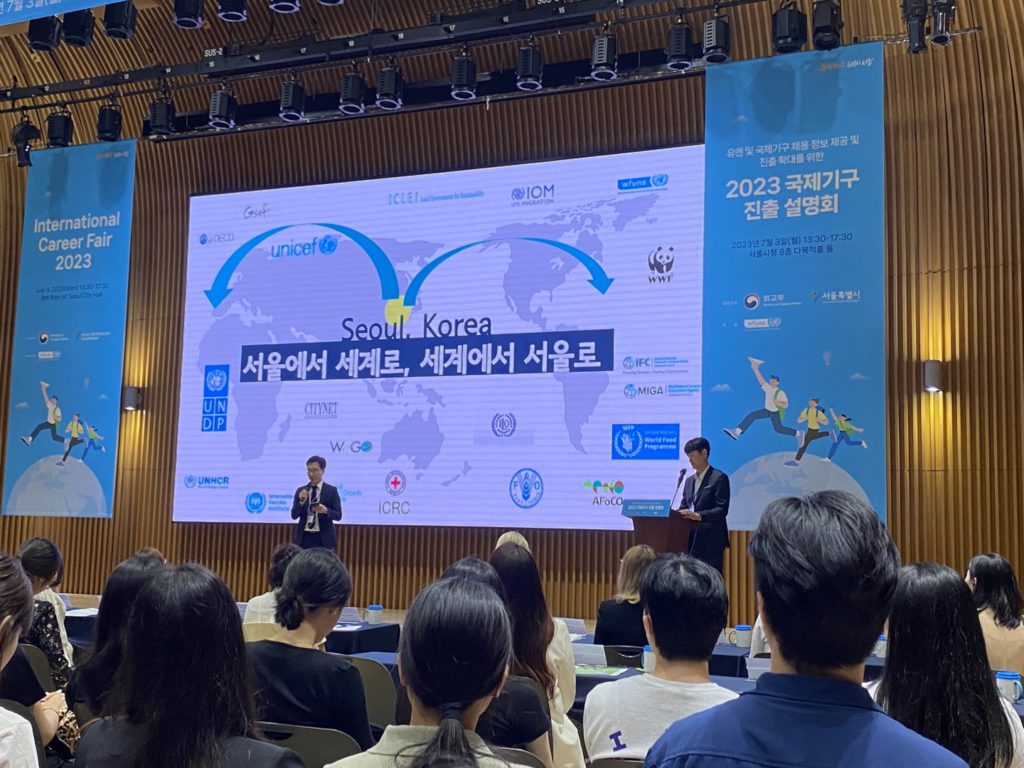 CityNet Secretariat participated in International Career Fair 2023 on 3 July. The fair, held in Seoul City Hall, was co-hosted by the Seoul Metropolitan Government (SMG) and the Ministry of Foreign Affairs of Republic of Korea (MOFA), and sponsored by the World Federation of United Nations Association (WFUNA).
With the aim of offering useful information and increasing employment opportunities for young Korean citizens who are pursuing their careers in international organisations or relevant fields, this event was attended by 10 international organisations based overseas such as UN Secretariat, UNESCO, WHO, IAEA and OECD, and 8 international organisations in Seoul including CityNet.
The Plenary Session began with hundreds of attendees. Director-General for International Organisations of ROK MOFA delivered her opening remarks, which was followed by welcoming remarks from Vice Mayor of SMG. Officers from participating organisations were also invited to the stage for their introduction and promotion. As a representative of Seoul-based international organisations, CityNet also briefly presented its history, mission, and projects.
Together with other organisations, CityNet Secretariat ran a career consultation booth after the Plenary. Our booth was visited by over 30 people in less than 4 hours. Staff members of the Secretariat introduced not only activities and projects of CityNet, but also our career opportunities including internship programmes. Moreover, for young students from university or graduate school who want to work for international organisations, our staff shared some tips and advice on CV writing, relevant work experience and how to choose majors and degrees.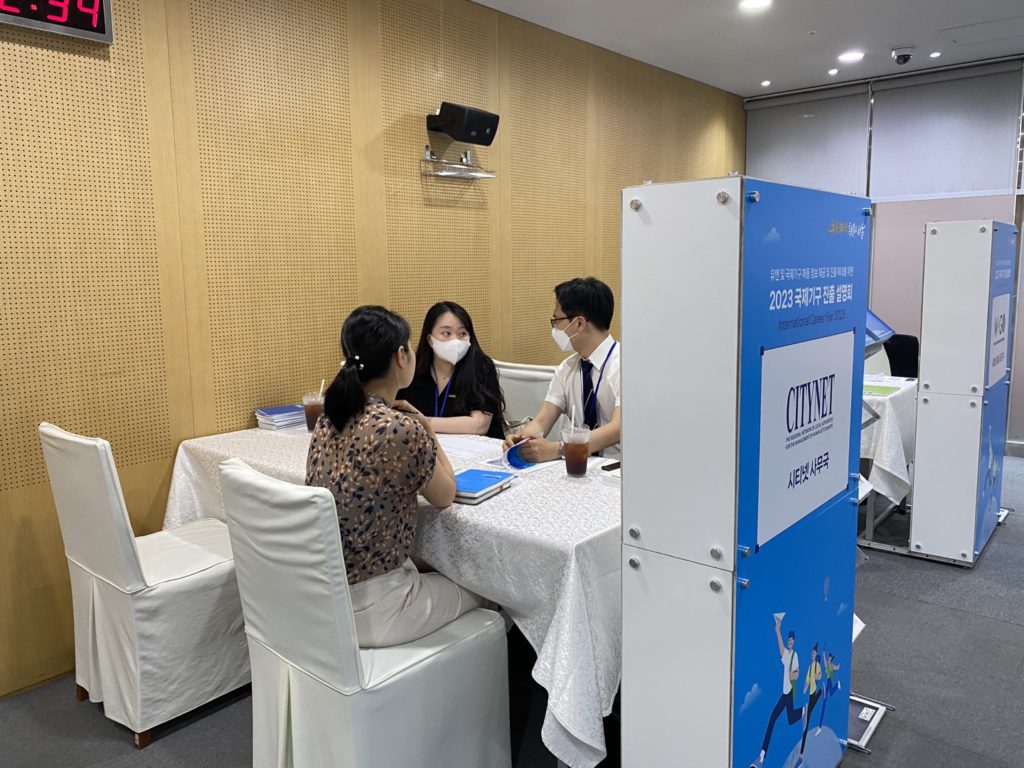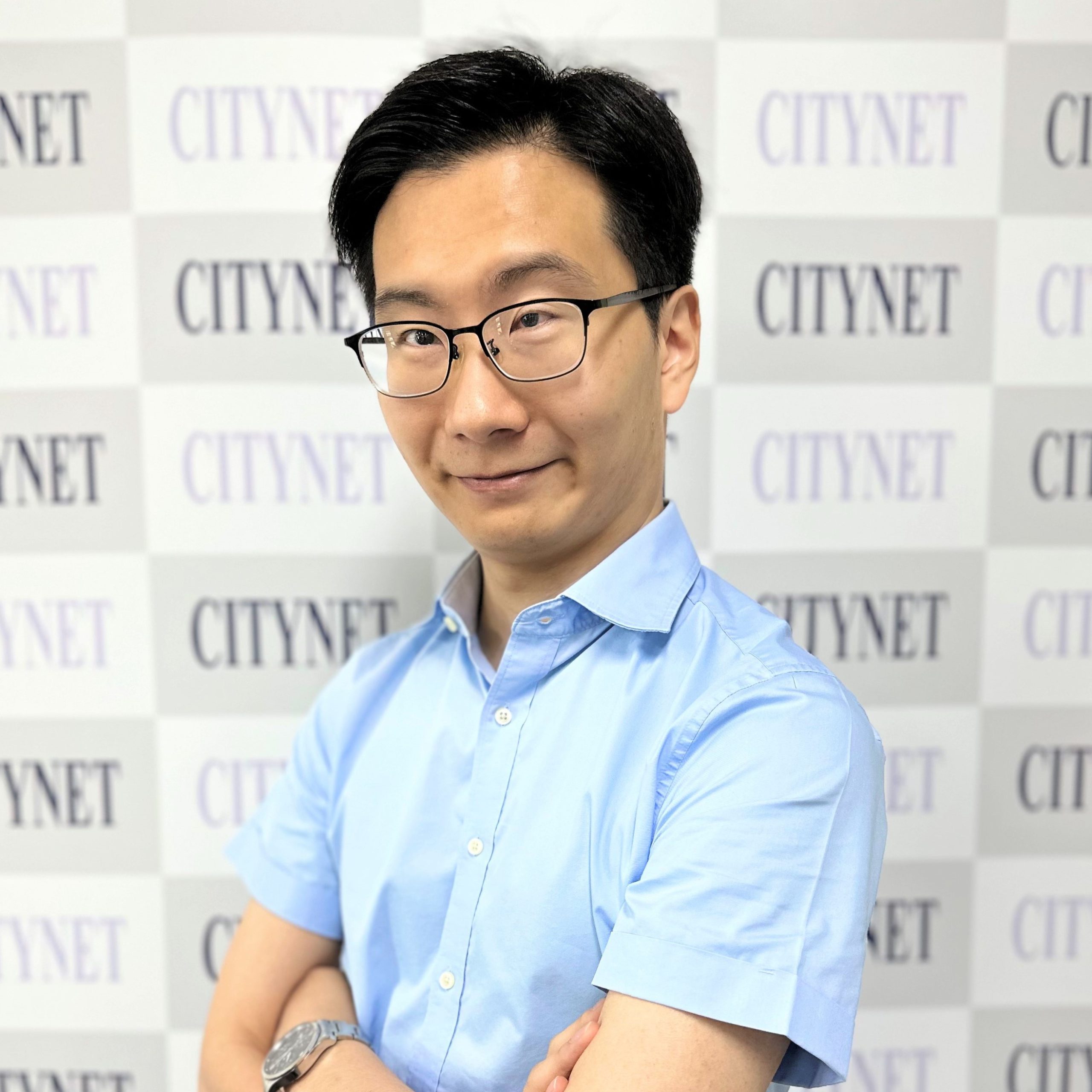 Bohyun Kim has specialized in diplomacy through people-to-people exchanges. Before joining CityNet, he organised various diplomatic events from youth MUN conferences to peace forums at the ROK Ministry of Foreign Affairs, Asia Exchange Association, and Jeju Forum Secretariat. At CityNet, he is responsible for the overall coordination for key legislative meetings. Mr Kim received his Master's in Global Politics from the London School of Economics and Political Science and a BA in Journalism & Communications and Political Science & Int'l Relations from Kyung Hee Univ.