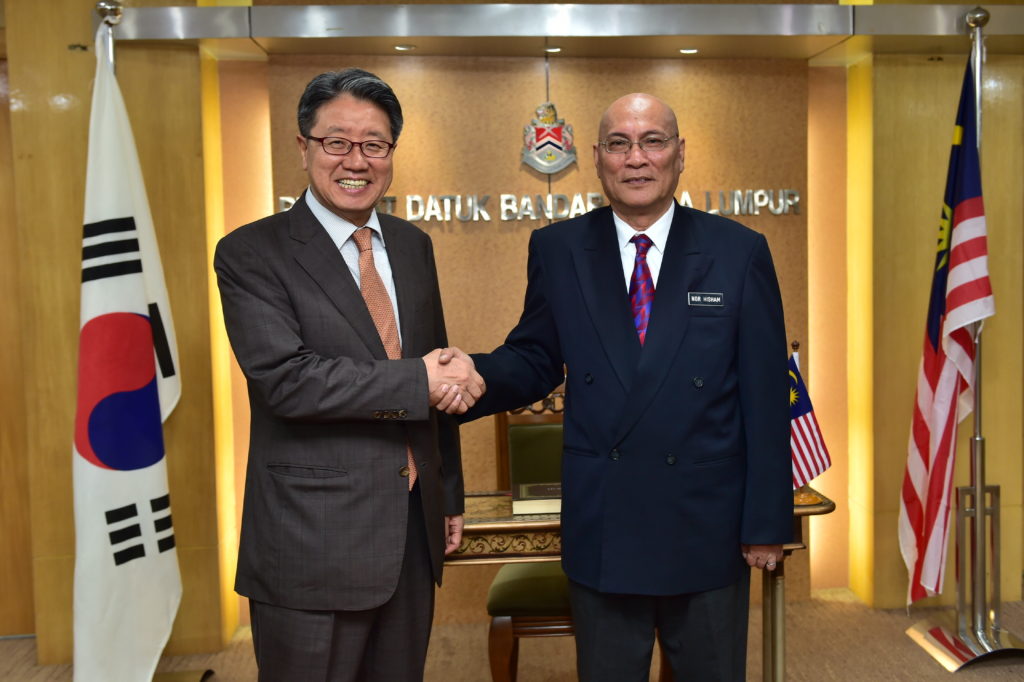 Representatives from the CityNet Secretariat together with Seoul Metropolitan Government (SMG) as the President City had the opportunity to pay a courtesy visit to the Mayor of Kuala Lumpur City Hall, Malaysia, on 23 July 2019. The visit gave an opportunity to have fruitful discussion as to how both cities could further boost their active contribution to the CityNet network.
On behalf of Seoul Metropolitan Government, Ambassador for International Relations Geunhyeong Yim and Deputy Director of Global Urban Partnership Division Changhee Lee attended the meeting. From CityNet Secretariat, Deputy Secretary General Aisa Tobing, Director of Programs Youngmin Chang, Deputy Director of Programs Stephani Widorini joined the meeting. From Kuala Lumpur City Hall, Mayor Datuk Nor Hisham bin Ahmad Dahlan and Deputy Mayor Datuk Mahadi bin Che Ngah welcomed the representatives.
The main purpose of the courtesy visit was to strengthen a cooperation between SMG and Kuala Lumpur as a President and Vice President city within the Network respectively. Furthermore, as a leader and co-leader of CityNet Infrastructure Cluster, this visit seeked ways to empower the members' capacity within the Cluster activities and Network through their contributions.
During the meeting, CityNet extended its invitation to the Mayor of Kuala Lumpur to attend this year's Executive Committee (ExCom) Meeting to be held in Lalitpur, Nepal from 6-8 November 2019. While Ambassador Geunhyeong Yim also delivered a special invitation from Mayor Wonsoon Park of Seoul addressed to the Mayor of Kuala Lumpur to visit Seoul to strengthen the friendship between the two cities.