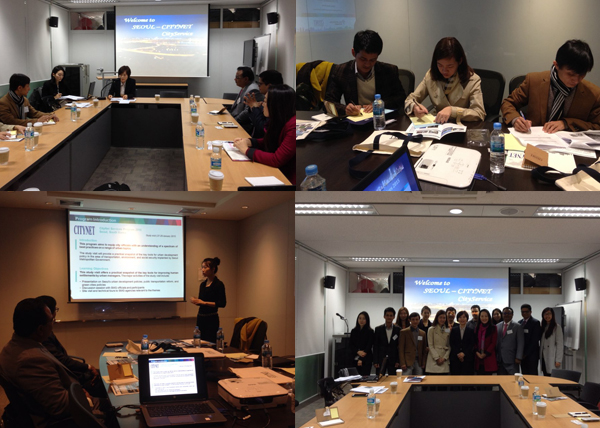 Five senior city managers and urban planners from Hue, Mumbai and All India Institute of Local Self Government (AIILSG) based in Mumbai visited Seoul to learn about urban development policies implemented by Seoul Metropolitan Government (SMG) from January 27th-29th.
This is the beginning of the CityNet Services program that was launched in 2014. The two cities submitted proposals outlining urban challenges they are facing, including public transportation management, flood and waste management, renewable energy and e-governance, among others.
On the first day, participants were introduced to Seoul Metropolitan Government's urban development policy, from the history to the reformation of public infrastructure followed by the water supply and sanitation system. The afternoon session was filled with explanation and discussion on the e-governance system and social protection and security.
Green Cities for Future Urban Development started the second day and the program continued with a presentation from the representatives from Mumbai about solid waste management.
To wrap up this CityNet Services program, Hue presented their case on transportation system following the introduction to the Seoul transport operation and information service system.
The learning methods did not only consist of presentations and discussions with the SMG officials to address any questions raised by participants, but also site visits and technical tours that include Sangam Digital Media Center, Nanjido Sky Park and Seoul Transport Operation and Information Service (TOPIS).
The CityNet Secretariat invites other members to submit proposals explaining their city's most tricky demands in urban planning. CityNet will facilitate the exchange between the concerned cities in order to receive direct advice from experts. Likewise, we invite your city to share your urban development experise with other CityNet member cities.