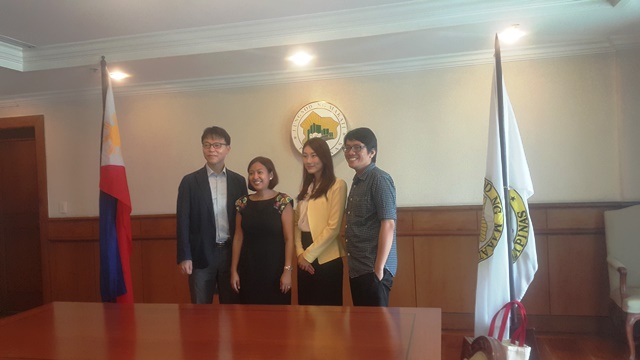 It is all systems go for the CityNet's 34th Executive Committee Meeting on 24, 2016. This was assured by no less than Makati City Mayor Abby Binay-Campos to the CityNet's Secretariat's courtesy visit to her office last September 27, 2016. Makati City is CityNet's Second Vice President City.
CityNet Secretariat's Operations Director Taegyun Gi, Program Officer Jaime Paulo Mora, and Project Coordinator Hee Soo Joo met their local counterparts to finalize the details of the preparation for the 34th Executive Committee.
The representatives of CityNet Secretariat and local working groups visited the hotel's meeting venue and rooms, finalized the placement of banners and help desks, simulated the visitors' flow, and set deadlines for sending program details and itinerary.
The Executive Committee is the highest governing body of CityNet that meets once a year to evaluate its activities throughout the year and map out the organization vision and strategy for the following year. Prior to this year's meeting, CityNet will also conduct its strategic planning meeting on November 23, 2016.