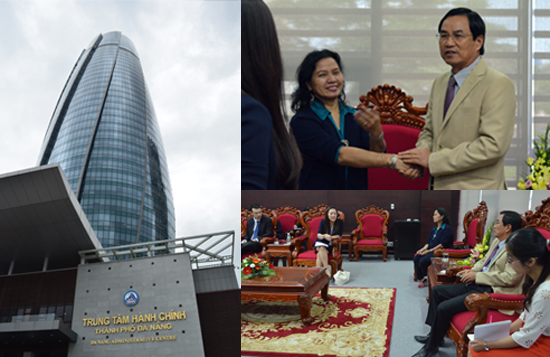 Before heading back to Seoul at the end of the 32nd Executive Committee Meeting in Hue, Vietnam, CityNet Secretariat representatives had the honour to meet the Vice Chairman of Da Nang People's Committee, Mr Phung Tan Viet. The meeting was held at the impressive newly-built Da Nang Administrative Center located along the famous Han River that accommodates 24 departments and agencies with approximately 1600 staff members. Mr Tan Viet was accompanied by several other city officials from different departments, from Transport to Foreign Affairs.
Upon the arrival of the CityNet delegates, Da Nang City officials introduced the One-Stop-Shop (OSS) model that the city has implemented since 2007. Through the 35 counters on the ground floor of the 34-floor building in Vietnam, the city government has reformed the administrative system for its citizens. This center has been evaluated as one of the most advanced administrative buildings in the country and has reflected the city's commitment to implement effective administrative system.
Through the meeting, Da Nang city officials elaborated on the ongoing infrastructure project, including the Bus Rapid Transit that is scheduled to start operating from the end of 2017 to reduce carbon emissions as well as address overcrowding and traffic congestion. In addition, they also shared their successful economic development with its GDP increased more than 9% for the first half of 2014. During the meeting, Mr Tan Viet expressed his full support for CityNet and recommend CityNet to work with other cities in Vietnam.
This major port city is among the five independent municipalities in Vietnam and is the gateway to access Central Vietnam.