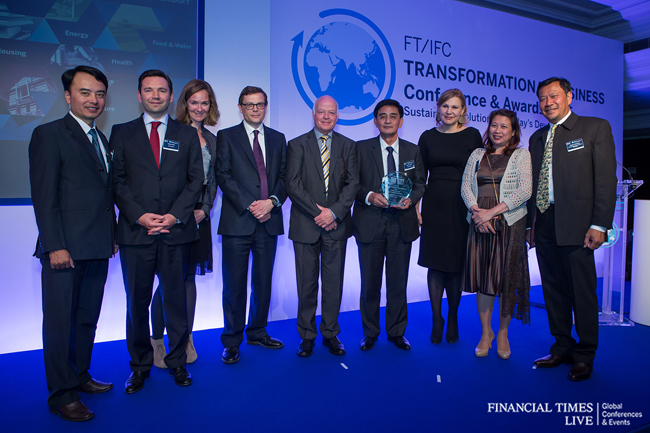 Da Nang City has been recently announced as the Winner for the FT/IFC Special Award: Excellence in City Transformation at the Award Announcement Gala Dinner at the InterContinental London Park Lane Hotel on 11 June 2015 (London time). It is the annual award organized by the Financial Times (FT) in cooperation with the International Finance Corporation (IFC) (a member of World Bank Group). The award seeks nominations for cities that have, since 2010, demonstrated tangible progress towards city-wide, integrated reforms, covering one or more of the following parameters: environmental; social; governance; economic; and services.
The award organisers requested assistance from the GIZ Nexus project to identify cities that are the best suited candidates for the award and actively encouraged and supported them to apply. GIZ Nexus project in particular promoted Da Nang city of Viet Nam being one of the most advanced Nexus cities among ten partner Asian cities. Now it has indeed been proven that Da Nang City has overpassed 191 application entries from 167 organisations in a total of 140 countries to be in the shortlist together with other six cities from Brazil, India, Liberia, Senegal, South Africa and Spain and honoured to be the Winner of the FT/IFC Special Award: Excellence in City Transformation.
"The initiatives nominated for this year's awards included a number of projects that have the potential for large-scale adoption across the developing world. The judges were delighted with the level of innovation and the focus on commercial viability, and the overall progress we have seen in sustainability solutions since our awards were launched 10 years ago," said John Thornhill, Deputy Editor of the Financial Times and co-chair of the awards judging panel.
Reference link: https://www.eiseverywhere.com/ehome/index.php?eventid=106515&tabid=299921
https://www.flickr.com/photos/45442848@N05/albums/72157654177182259/page2