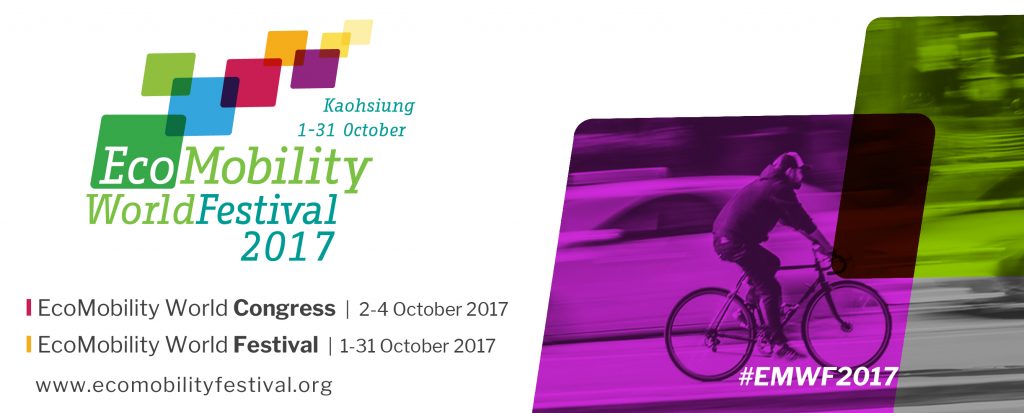 This October, during the EcoMobility World Festival 2017, initiated by ICLEI – Local Governments for Sustainability, the City of Kaohsiung will transform the streets of the historic Hamasen neighborhood into a dedicated space for ecomobile modes of transport such as walking, cycling, public transport, shared vehicles and light electric vehicles.
The Festival, held every other year in different cities, is a live demonstration of how cities can take a bold step to create a forward-thinking urban transportation culture through ecomobility. It is an avenue for city governments to experiment with creative ecomobile solutions to create more livable cities. It also gives residents the opportunity to experience how traveling through integrated, socially inclusive and healthy transport options can improve their quality of life. Throughout the month, the EcoMobility Expo will also showcase various innovative sustainable transport and urban solutions offered by local and international businesses.
The EcoMobility World Congress 2017, from 2-4 October, is a key part of the Festival which enables local and international actors, united by a shared interest in sustainable transportation, to come together to discuss a future for urban transport.
Local and international transport experts will discuss how sustainable mobility can be livable shared and intelligent, mirroring what Kaohsiung is demonstrating through the Festival.
City mayors from all over the world will share their experience and commitment to implementing ecomobility in their respective cities during a dedicated roundtable allowing high level discussions. A specific mayors' track has also been tailored for mayors, deputy mayors and heads of transport to make the most of their experience at the Congress.
Join the Congress to learn more about sustainable urban mobility and enhance your networking opportunities, while witnessing how Kaohsiung is catalyzing a transformation towards ecomobility through government leadership and community engagement.
To learn more and join us as a participant, exhibitor or partner, visit http://www.ecomobilityfestival.org or contact the EcoMobility World Festival Team at ecomobility.festival@iclei.org.