CityNet is pleased to extend an invitation to the World Cities Summit 2021.
The World Cities Summit is an exclusive platform for government leaders and industry experts to address liveable and sustainable city challenges, share integrated urban solutions and forge new partnerships. Since its inauguration in 2008, the biennial Summit has been attended by over 250 global cities and supported by leaders from government, business, international organizations and academia. Jointly organized by Singapore's Centre for Liveable Cities and the Urban Redevelopment Authority, the World Cities Summit is held in conjunction with the Singapore International Water Week (SIWW) and the CleanEnviro Summit Singapore (CESG). Highlights of the Summit include the Lee Kuan Yew World City Prize, the WCS Mayors Forum and City Solutions Singapore.
For the first time since WCS commenced in 2008, the WCS 2021 will adopt a largely virtual format. From 21 to 23 June, audience members can join our global thought leaders at our WCS dialogues and plenaries remotely, which will convene a larger and more international audience. The discussions will continue with a series of monthly WCS webinars from July to November 2021.
Register here!
Key highlights of the World Cities Summit 2021
WCS Sessions: High-level speakers from governments, international organizations and industry sectors share their insights on cross-disciplinary policies, management strategies and best practices. These 70-min live webinar sessions include keynote addresses, panel discussions and audience Q&A.
WCS Smart Cities Workshop: The inaugural WCS Smart Cities Workshop aims to advance participating cities' smart city projects through deep dive webinars with relevant partners such as consultants, funders and solution providers.
WCS Young Leaders Dialogue: WCS Young Leaders convene at this by-invitation-only event for an exclusive dialogue with Tan Kiat How, Minister of State for National Development, Singapore.
Special Addresses: Key leaders share their thoughts on how cities can adapt to a disrupted world in these 5-min Special Addresses. Invited speakers include David Malpass (World Bank Group President), Prof. Richard Florida (Professor and Head, Martin Prosperity Institute) and Achim Steiner (Administrator, United Nations Development Programme.
WCS Mayoral Dialogues: Professor Greg Clark CBE, engages in exclusive 10-min fireside chats with invited mayors of leading cities such as Bangkok, London, Kigali, Miami and Shanghai.
Partner Events: Partner Events organized along the sidelines of WCS 2021 provide more opportunities to explore topics related to our theme.
Country Spotlight: Cities such as Belgium, Japan, Korea and the United Kingdom showcase how they are making their cities liveable and sustainable in this era of disruptions in these 30-min sessions.
Virtual Site Visits: Experience Singapore through these 2-min virtual site visits, such as Tiong Bahru's conservation efforts hosted by Singapore Minister Indranee Rajah.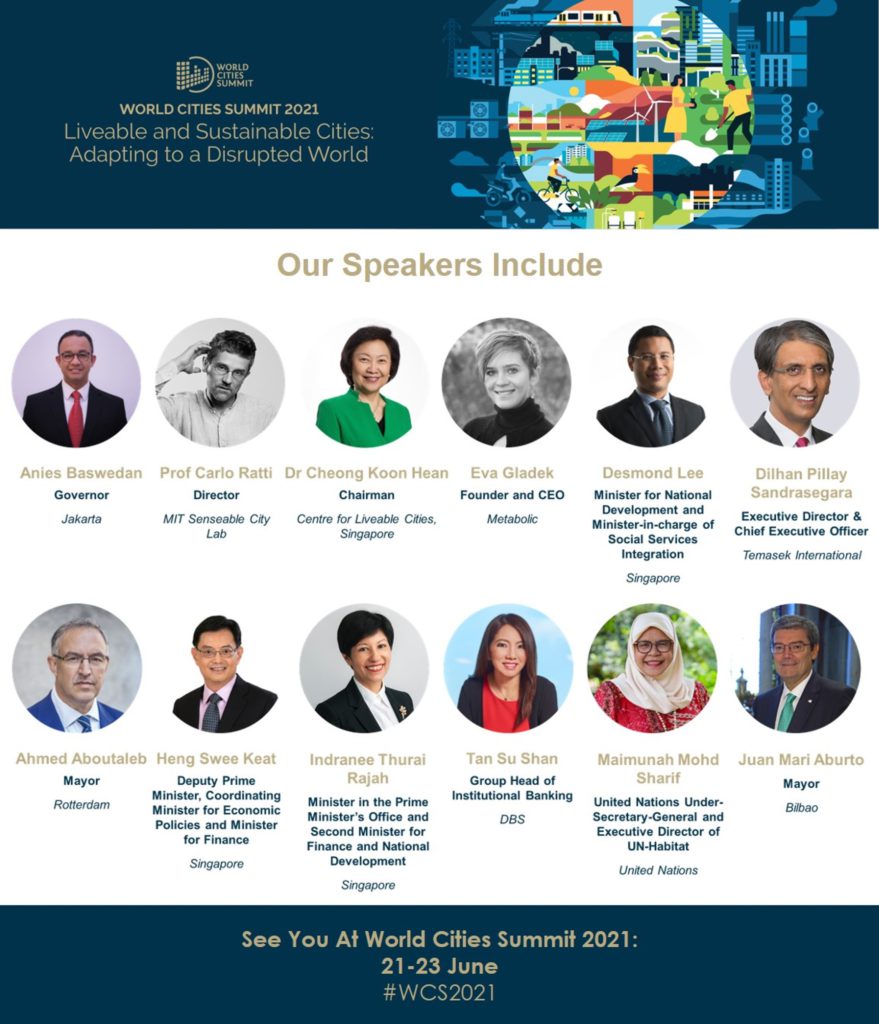 For more information, please refer to the WCS website: https://www.worldcitiessummit.com.sg/.
For any questions, please contact Program Officer Megan Chow at programs1@citynet-ap.org.