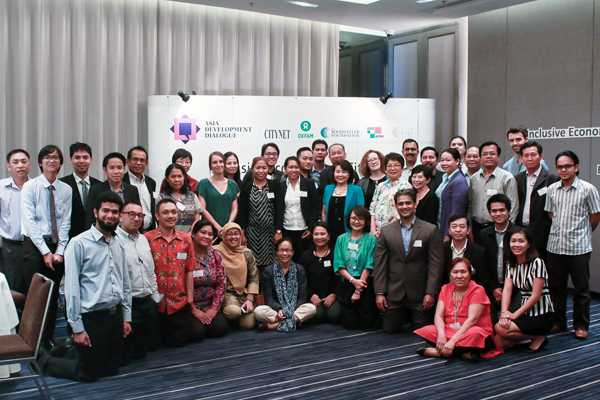 As part of the Asia Development Dialogue, a regional dialogue platform for governments, private sector, civil society, and academia, Oxfam, in collaboration with CityNet, WIEGO, and UCLG-ASPAC supported by The Rockefeller Foundation, organized a two-day workshop from May 10th in Bangkok. Approximately 47 people attended the workshop that focused on Inclusive Economies in Cities: Livelihood Opportunities, Local Economic Development Strategies and Social Protection for Poor Urban Informal Workers in Asia to foster and promote new ways and tools for inclusive growth and inclusive local economic development in South East Asia.
One of the discussion highlights was that there is a parallel growth of informal sectors alongside the formal economy in developing countries like in most ASEAN and South Asian countries. However, informal workers in some countries have not been integrated to the participatory planning process, thus haven't exercised their rights to influence the policy making process. This triggered a debate whether informal economy needs to be formalized. That said there was another argument that formalization might not necessarily be the answer. Government's main focus is to help the informal workers improve their productivity and opportunity for their voices to be heard by the government. Some of the success cases presented during the workshop included Makassar, Indonesia and Seberang Perai, Malaysia.
One other discussion highlights was the role of private sector, whether private sector has a role in providing opportunities for the informal workers. In the workshop, private sector representatives focused on the use of technology as a way to improve the productivity of informal workers such as the case of Echo Store and Grab Car.
Echo Store is a successful organic store in the Philippines that relies on products supplied by home-based micro and small enterprises run by women. Echo Store founder Pacita San Juan said the store also helps women improve the packaging and design of their products to make them more appealing. San Juan said that private sector depends on government's efforts to engage with the informal sector. Private sector also needs to continue supporting government's policies in improving the lives of informal sectors.
The workshop concluded with a general consensus that all inputs could be further discussed at the upcoming regional forums particularly UN Habitat Preparatory Committee Meeting III in Surabaya.