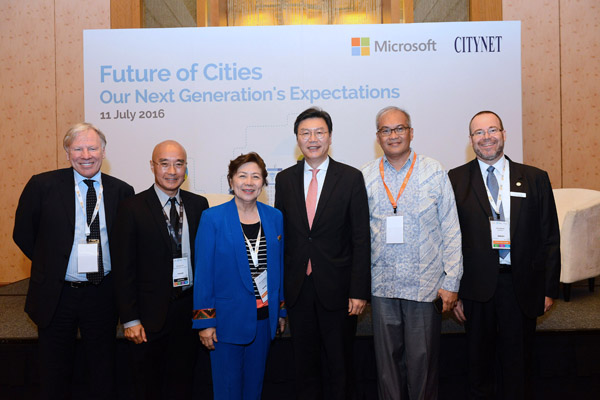 Together with Microsoft, CityNet held a Mayor Dialogue that discussed "Future of Cities – Our Next Generation's Expectations" as part of World Cities Summit co-located event on July 11
th
at 12.45-14.00.
The discussion of this session was focused on the outcomes of a recent survey of young people's expectations of their city governments conducted by Microsoft. Interesting insights emerge include current views of the challenges faced today, young peoples' hope for the future and Cities that they admire. This forum aimed to provide opportunity for cross exchange of ideas and best practices allowing cities to collaborate on formulating their future agenda.
Speakers for this session include:
Kim Chang-Beom, Ambassador for International Relations, Seoul Metropolitan Government
Oswar Muadzin Mungkasa, Deputy Governor of Jakarta for Spatial Planning and Environment
Michael Koh, Fellow of Centre for Liveable Cities a division of Ministry of National Development
Stefan Sjoestroem, Vice President for Public Sector Asia, Microsoft
Mary Jane Ortega, former Mayor of San Fernando, La Union, Philippines; CityNet Special Advisor
During the discussion panellists were asked what the most surprising findings from their cities are and to elaborate on how they face up to the urban challenges pointed on the result. Singapore, for example, better housing conditions is among the top list mentioned by respondents to make Singapore more liveable. CLC Fellow Michael Koh highlighted the issue of house prices that are surging across the globe and the Government of Singapore addressed it by creating public housing.
Meanwhile, Jakarta is struggling with traffic congestion. Jakarta Deputy Governor Oswar Muadzin Mungkasa emphasised that the citizens of Jakarta need to change their habit and perspectives on how they see transportation because they still like to use their own private vehicles. Jakarta Light Rail Transit and Mass Rapid Transit are currently under construction as an attempt to solve the transportation challenges.
Answering the question of the role of technology in the society, Ambassador Kim Chang Beom emphasised that we should not forget the whole technological application or implementation, the people should always be at the centre – citizens-centred application – putting the people at the forefront of the decision making process. He gave an example of Seoul's M-Voting to gather citizens' opinions and allow citizens to share their opinions on the city's diverse policies by using mobile devices.
CityNet Special Advisor Mary Jane Ortega mentioned the recently launched mobile app in Sidoarjo following the event, CityApp that was organised by CityNet and Microsoft last year, which has helped the city addressing their road infrastructure issue with public participation. Towards the end of the discussion Stefan Sjoestroem from Microsoft endorsed CityNet as an important network of local authorities where members and partners can share best practices and knowledge particularly in addressing urban challenges.
Details of the survey findings