The first CityApp Appathon organized jointly by Microsoft and CITYNET (The Regional Network of Local Authorities for the Management of Human Settlements) included 103 developers from across Nepal building web and mobile applications to solve Kathmandu's biggest urban challenges.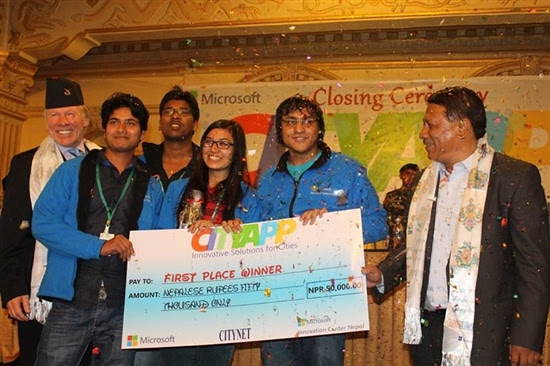 "This is an amazing event and I want to thank CITYNET and Microsoft for organizing it. The apps that our citizens have created will go a long way in ensuring the socio-economic sustainability of our city. It is a great showcase of the power of technology and the role it can play in making cities better for people," said Kathmandu CEO Mr. Laxman Aryal.
The Kathmandu Valley is one of the fastest urbanizing cities in Asia and with the increased population growth comes issues such as traffic congestion, pollution and insufficient waste management. CityApp Kathmandu saw a variety of apps being built to address a wide range of issues, including accurate demographic information, cultural and heritage preservation, urbanization, pedestrian information, as well as waste management.
"As a citizen of Kathmandu, I experience these issues every day and have witnessed first-hand how important and urgent it is to find solutions. The collaborative approach that the government is taking with CityApp has enabled me to put my programming skills to use for the betterment of the city, and I am thankful for the opportunity to do so," said Yashasvi Raj Pant.
The first place winning app, a solution focusing on public safety called Safety Whistle, was submitted by Yashasvi and teammates Anish Ansari, Gopal Kandoi and Rumi Shakya, who made up Team Conscientious. In this app, users can enter two to three emergency contact numbers and two to three emergency email addresses. If ever the user is in a situation they feel threatened or require assistance, the user simply presses the panic button to activate the app, which will send an SMS or email to the designated contacts. Information will also be sent to the police noting the location of the emergency.
Other winning apps include a patient-centric application that captures interactions between a health care provider and a patient; an app that tracks public transportation arrival times; an information portal that supports communication and collaboration between citizens and the government; and a crowd sourcing app that helps citizens connect to help each other solve community based problems together.
"This groundswell of ideas from the Appathon is a hallmark of Microsoft CityNext, which broadens the city innovation conversation beyond infrastructure alone, centering on helping cities unlock their most important resource—the potential of their people," said Stefan Sjöström, Vice President of Asia Public Sector at Microsoft.
Winners of CityApp Kathmandu 2014 will work with the Microsoft Innovation Center in Nepal to incubate and further develop their ideas. They will get an opportunity to showcase their apps to city and government officials at the World Cities Summit in Singapore on 1-4 June 2014.
More information about Microsoft CityNext is available here.