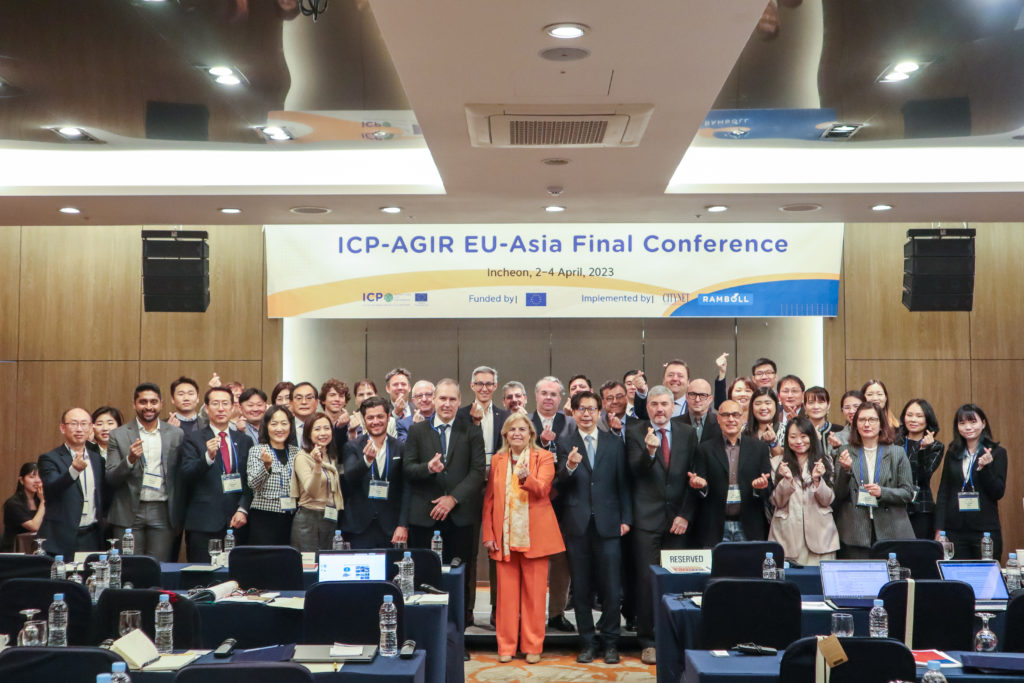 INCHEON – CityNet, an international organization based in Seoul, South Korea, together with the European Union and Incheon Metropolitan City, held the ICP-AGIR Final Conference in Incheon from 2-4 April 2023.
The International City Partnerships: Acting for Green and Inclusive Recovery (ICP-AGIR) project is a programme funded by the European Union (EU) to promote city-to-city cooperation between EU and non-EU cities on the topics of energy transition, air quality, circular economy, and migrant and refugee integration. The selection process for the programme began in November 2021. In Asia, the project was officially launched in February 2022. CityNet, an association of urban stakeholders for sustainable development in the Asia-Pacific, has been serving as the implementing partner in Asia.
A total of 14 EU cities and 13 non-EU cities participated in the project. In Asia, six city pairings were formed: Incheon-Berlin, Incheon-Almeria, Gwangju-Athens, Taoyuan-Braga, Taichung-Prato, and Singapore-Milan. In South Korea, Incheon Metropolitan City and Gwangju Metropolitan City are participating in the ICP-AGIR project. Together with their paired cities Berlin (Germany), Almeria (Spain), and Athens (Greece), the two cities have been exchanging knowledge and cooperation on urban regeneration, smart cities, green hydrogen energy, and air quality improvement.
A total of 60 officials from European and Asian cities such as Berlin, Milan, Athens, Incheon, Seoul, Sejong, Singapore, and Taoyuan, as well as the Ambassador of the European Union to the Republic of Korea, Ambassador Maria Castillo Fernandez, attended the conference to report the results of the project.
The event began with welcoming remarks by Ambassador Castillo Fernandez from the European Union Delegation to the Republic of Korea office and Mr. Jozef Stahl, from the European Commission's Directorate General for Regional and Urban Policy (DG-REGIO), following by an award ceremony for excellent city pairings who have identified pilot actions and are receiving a small amount of support from the project for the execution of their actions.
In her opening speech, she emphasized that the role of cities is critical in prioritizing climate agendas, as the bottom-up approach is the key to bringing solutions to the citizens. She stated that just like FTAs, frameworks like these city partnership projects are important to addressing climate, environment, and energy issues.
CityNet was established in 1987 with the support of the United Nations Economic Commission for Asia and the Pacific (UN ESCAP), the United Nations Human Settlements Programme (UN-Habitat), and the United Nations Development Programme (UNDP) to solve common problems experienced by cities in the Asia-Pacific region and to achieve sustainable urban development. The international organization currently has 154 members, comprised of local authorities, organizations, research institutions, and companies.
CityNet has been working together with the European Union to solve problems faced by cities such as transportation infrastructure and developing eco-friendly cities through projects like the World Cities project, the International Urban and Regional Cooperation (IURC) project, and the ICP-AGIR project since 2017. CityNet has supported and facilitated exchanges between the city pairings of Seoul-Dublin, Busan-Rotterdam, and Sejong-Sofia through the ongoing IURC project that began in 2021. In the ICP-AGIR project, CityNet supported the pairings of Incheon-Berlin, Incheon-Almeria, Gwangju-Athens, Taoyuan-Braga, and Taichung-Prato. In the World Cities project, which was implemented from 2017-2018, CityNet facilitated relationships between EU-Korean cities such as Seoul, Busan, Gwangju, Suwon, Eindhoven, Barcelona, Tampere, and Scotland Cities Association. The EU-funded projects have provided an excellent opportunity for more advanced cities to collaborate on common, shared challenges.
"The role of cities is becoming more and more important in responding to climate change and disasters, and exchanges between cities based on grassroots diplomacy are becoming the centre of international exchange," said Youngmin Chang, Director of CityNet's Programs Team. "Together with the EU, we will continue our efforts to solve the current challenges through exchange projects between cities."
With the goal of strengthening the capacity of local governments through sharing of best practice cases, CityNet established the Urban SDG Knowledge Platform in 2017 together with UN ESCAP and Seoul Metropolitan Government. The Platform now has a collection of over 400 city best practices. CityNet is taking the lead in promoting sustainable urban development by encouraging knowledge sharing among cities for local actions.
In Korea, major local governments such as Seoul Metropolitan Government, Busan Metropolitan Government, Incheon Metropolitan City, and Suwon City are members of CityNet, and have had the opportunity to promote their best practices on a global scale. Seoul Metropolitan has been the President City of CityNet since 2013 and continues to take an active role in the promotion of sustainable urban development.
About CityNet
CityNet is an international organisation that focuses on sustainable development in the Asia-Pacific, supporting local authorities to build people-centred, resilient, and inclusive cities. Established in 1987 with the support of UNESCAP, UNDP, and UN-Habitat, the network has grown to include over 170 members, including municipalities, NGOs, private companies, and research institutions.
Connecting stakeholders to exchange knowledge and build commitment, through capacity building, city-to-city cooperation, and tangible projects, CityNet helps its members address and respond to climate change, disaster, and infrastructure demands while striving to achieve the SDGs.
https://citynet-ap.org/
https://www.facebook.com/citynetsecretariat
Press Contact:
Name: Megan Chow
Email: programs1@citynet-ap.org
Phone: 2-723-0634