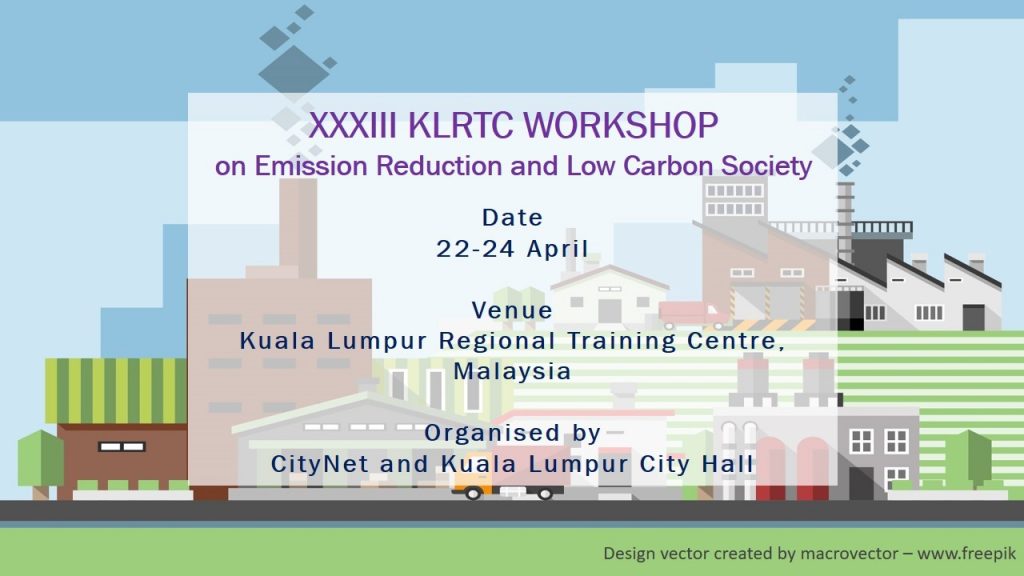 Join Kuala Lumpur Regional Training Centre (KLRTC) Workshop on Emission Reduction and Low Carbon Society!
According the United Nations report, cities occupy just 3% of the Earth's land, but account for 60-80% of energy consumption and 75% of carbon emissions. On the other hand, urban high density can bring efficiency gains and technological innovation while reducing resource and energy consumption.
The learning program focuses on urban solutions to climate change related challenges. The three-day learning activity is anchored on climate change mitigation and adaptation actions focusing on emission reduction and building low-carbon society.
Moreover, the activity presents opportunities for climate change local leaders and practitioners to benchmark and share best practice approaches, foster cross-city exchanges, and strengthen local climate leadership.
Date: 22-24 April, 2019
Location: Kuala Lumpur Regional Training Centre, Malaysia
Organiser: Kuala Lumpur City Hall, CityNet
How to register: Apply online at http://bit.ly/klrtc33 (deadline of registration is on 22 February, 2019)
More information about the event can be found here.
For any inquiries, you may contact CityNet Project Manager Jaime Paulo Mora at programs2@citynet-ap.org.