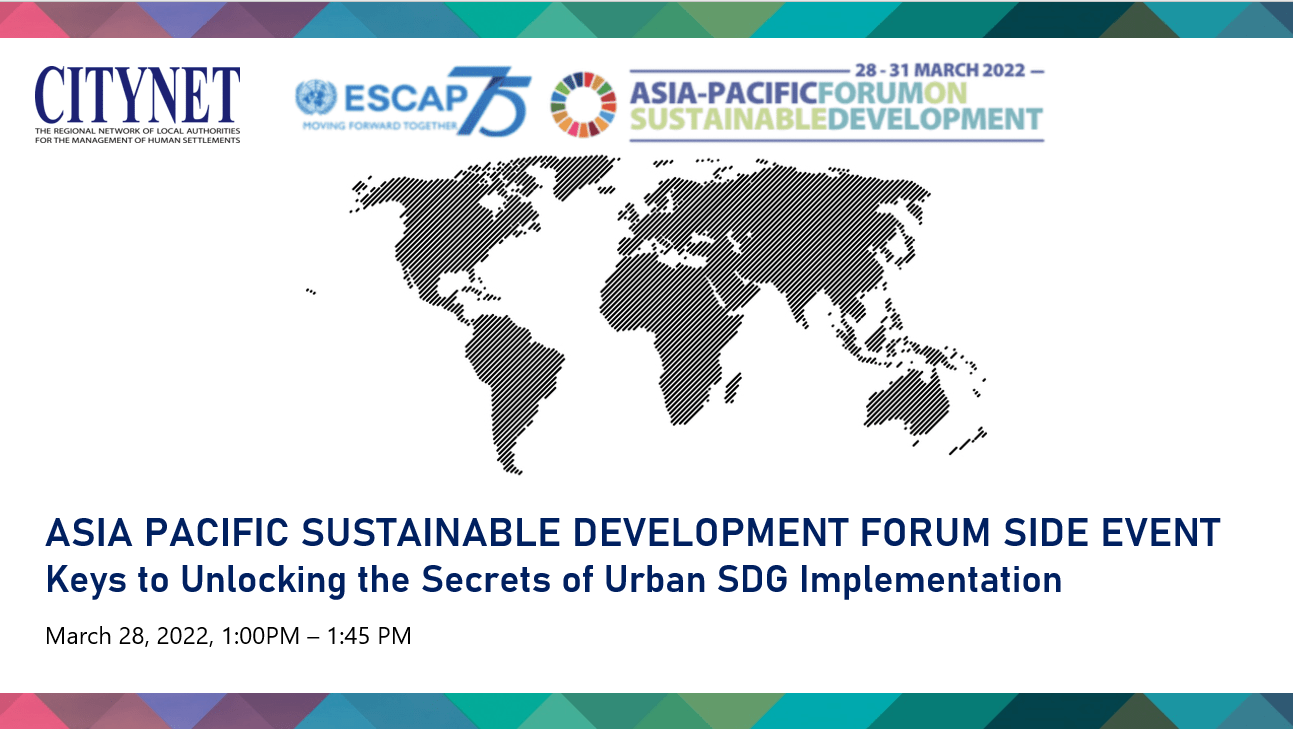 On March 28th, CityNet conducted a virtual side event at the Asia Pacific Forum on Sustainable Development in Bangkok, Thailand. Hosted by UNESCAP, APFSD is an annual event that provides, "a regional perspective on the implementation of the 2030 Agenda by identifying regional trends and consolidating and sharing best practices." The theme of this year's conference was "Building back better from COVID-19 while advancing the full implementation of the 2030 Agenda in Asia and the Pacific."
Representing CityNet, Program Officer Chris Di Gennaro delivered the presentation: Keys to Unlocking the Secrets of Urban SDG Implementation. The aim of this talk was to showcase the tools of the Urban SDG Knowledge Platform that were created with the intention to help city planners and policymakers assess the progress of SDGs implementation in their city and to localize best practices from one city to another. The Urban SDG Knowledge Platform is a joint creation of CityNet, UNESCAP, and Seoul Metropolitan Government. It hosts nearly 400 case studies on best practices in cities throughout the Asia Pacific region to promote knowledge sharing and city-to-city cooperation for sustainable urban development.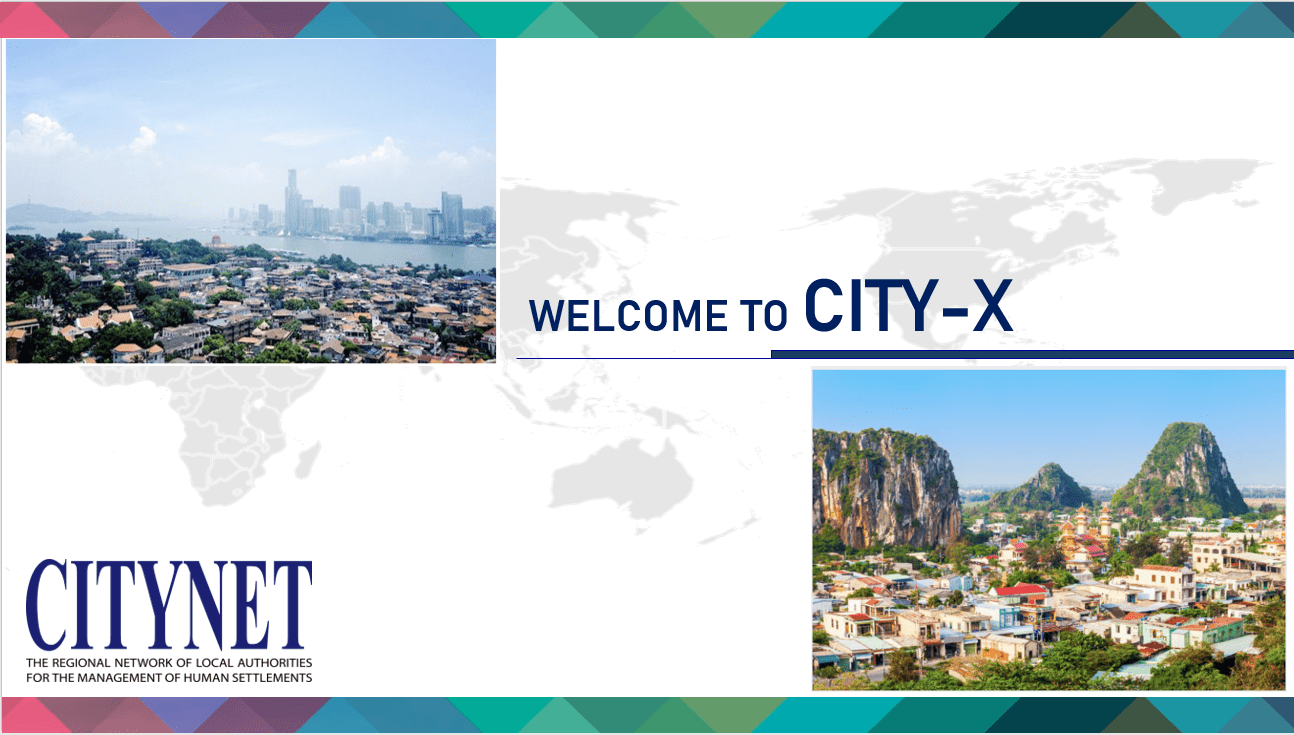 At the start of the presentation, roughly twenty attendees were introduced to City X, a fictionalized city somewhere in Southeast Asia that featured demographics and urban challenges constructed to resemble an amalgamation of cities in the region. City X is located in a rapidly urbanizing region with a quickly growing population thanks to its growing economy. Although the economic opportunities are expanding, there are dimensions of economic inequality along gender lines. Waste management is a growing issue, with built up solid waste that threatens to pollute water sources via increasing rainfall and flooding due to climate change. Attendees were tasked to roleplay as urban planning officials at City X to localize a best practice to develop sustainably in light of these challenges.

The SDG Navigator was then introduced. As a self-assessment tool to measure the progress of SDGs implementation, the SDG Navigator was a useful tool for City X officials to determine which developmental category or specific SDG target to focus on. The results of the SDG Navigator showed that City X could improve in the realms of Water & Sanitation, Social Inclusion, and Urban Environment. The Navigator helpfully pointed to a case study from Battambang featured on the Urban SDG Knowledge Platform that could improve Target 5.1 (ending discrimination against women), Target 6.3 (reducing pollution by improving water quality), and Target 12.1 (ensuring responsible consumption and production).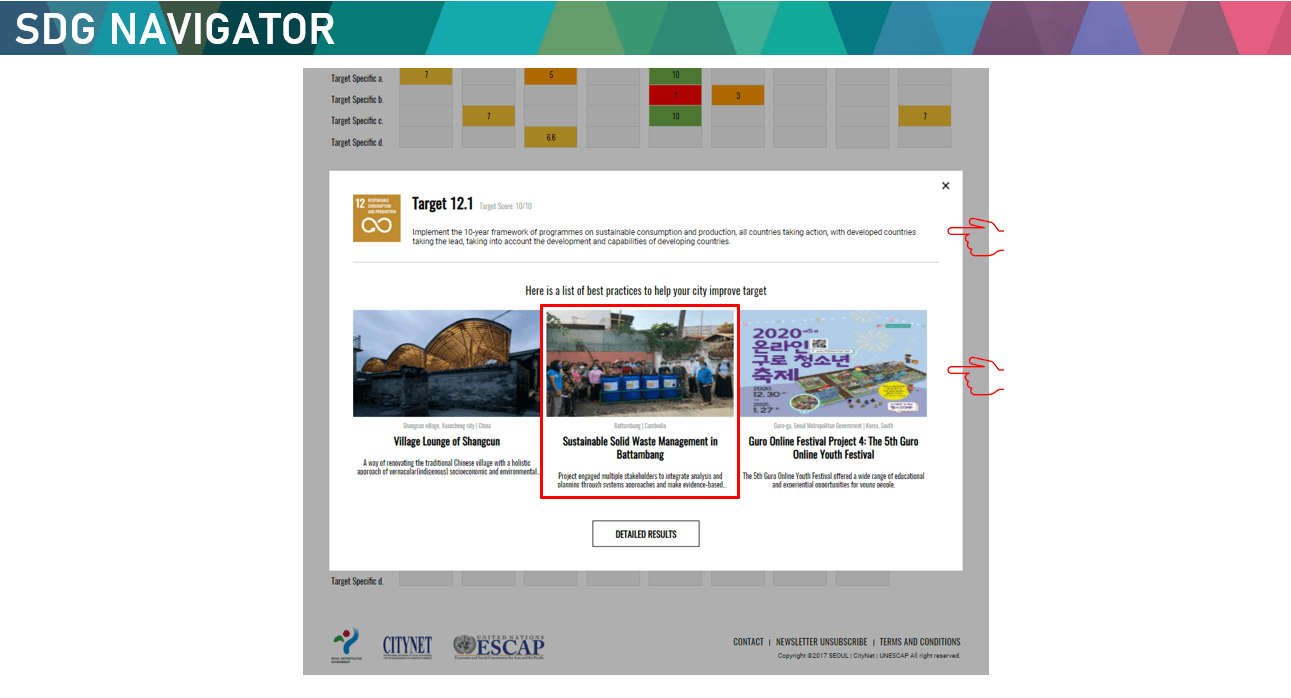 Attendees then analyzed the case study in question, Sustainable Solid Waste Management in Battambang, Cambodia. Besides the city of Battambang, UNESCAP was a key stakeholder in this case, developing a multi-pronged best practice through its Sustainable Urban Resource Management (SURM) system that fixed problems related to waste management, gender inequality in employment, lack of educational and institutional capacity on responsible disposal of waste, sub-par water sanitation, and lack of sustainable jobs. The case study successfully localized SDGs 3, 5, 6, 8, 11, & 12 and helped the city become, "environmentally friendly, socially responsible, economically successful while maintaining its uniqueness."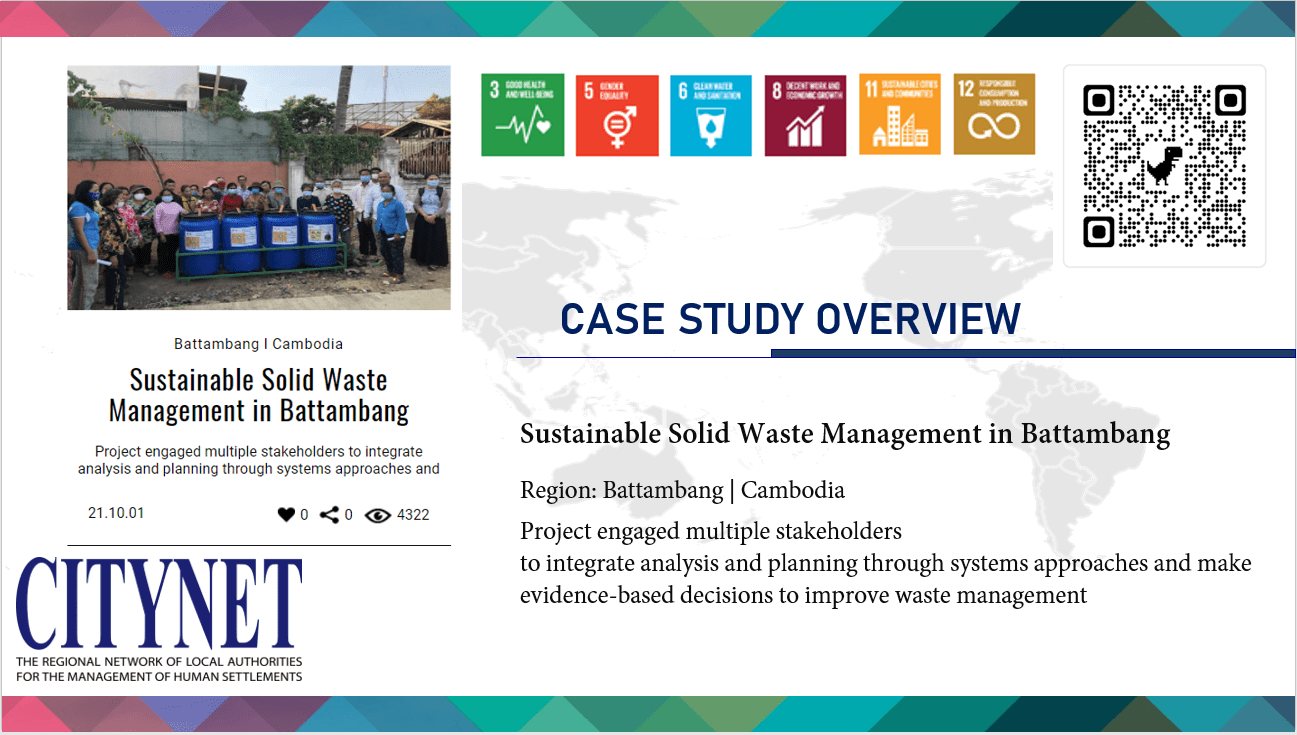 At last, the honorary City X officials employed the Urban SDG Knowledge Platform's Toolkit on Localization of Urban Practices to test the feasibility of localizing the Battambang case in City X. The Localization Toolkit is a self-assessment that can give city planners a sense of how successful a case study could be localized in their city along 5 key dimensions: Nature of the Project, Stakeholders, Resources, Institutional Framework, and Project Environment. After completing the toolkit, attendees were pleased to find that the Battambang case had a 76% chance of successful localization in City X. Through further discussion, they determined the aspects of the case that should be changed to fit the local context and which aspects to emphasize to better serve City X.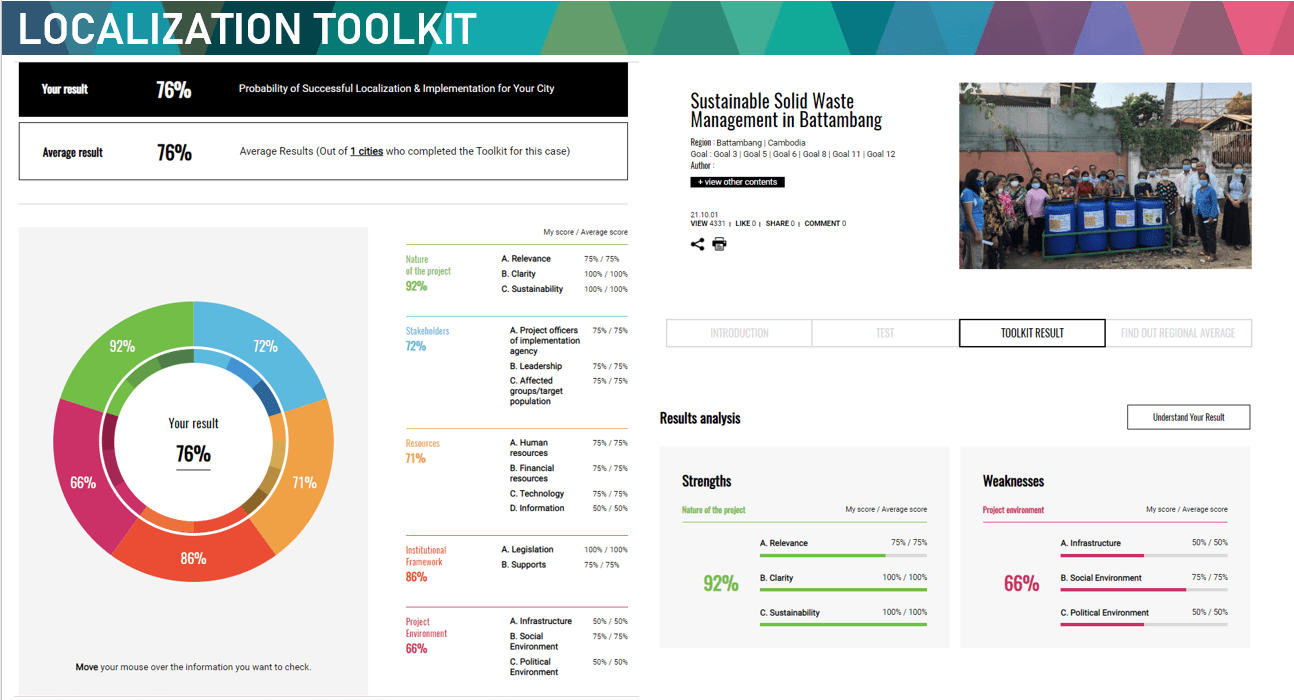 Following the presentation, Mr. Tim Sladden, Senior HIV Advisor at UNFPA, expressed interest in utilizing or adapting the Urban SDG Knowledge Platform's tools in service of social policies such as improving HIV prevention and treatment services in the region. To close, Mr. Kyungkoo (Philip) Kang, an officer in the Sustainable Urban Development Section of UNESCAP reaffirmed ESCAP's commitment to supporting the Urban SDG Knowledge Platform along with the development and promotion of tools to assist urban planners and other stakeholders in Asia Pacific cities in the design and implementation of sustainable urbanization projects.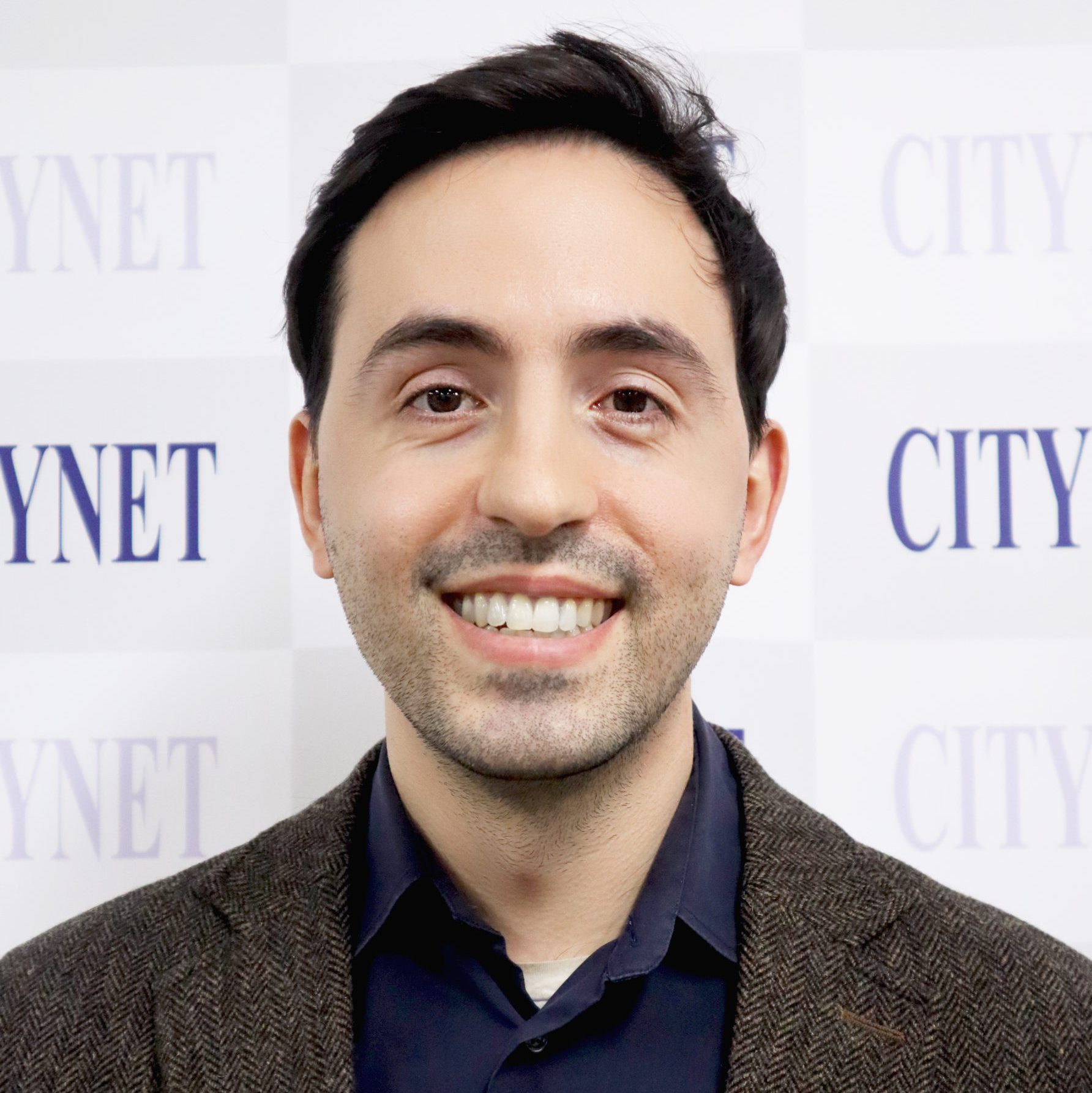 Chris Di Gennaro is a Program Officer at CityNet, where he manages the Urban SDG Knowledge Platform, a joint project with UNESCAP and the Seoul Metropolitan Government. Previously, he worked at ESCAP to organize an urban innovation themed startup competition. Chris holds a Master of Korean Studies from Yonsei University and a Bachelor of Psychology from Vassar College. He is keenly interested in the workings of cities and facilitating sustainable urban development.