CityNet Secretariat and ArchiCity virtually held the "China National Workshop – Green Urban Transition and Sustainable Integration of ICT" on 9-10 December 2021. The workshop gathered 30 domestic and international representatives from local governments in China and abroad to participate and present their cities' experiences on Urban Green Transition in the workshop.
Nowadays, "transition" has become a buzzword in the world of sustainable development. Urban stakeholders are now recognizing that the key to becoming a sustainable society is transforming their cities to be greener.
Mr. Geun Hyeong Yim, CityNet's CEO commented in his opening remarks, "China, as the most populous country and one of the fastest emerging economies, has been facing complex challenges on the road to transition. Surely, Chinese cities have much that they can share with other cities in the Asia Pacific."
The first day of the workshop was kicked off by Dr. Matt Benson, Programme Director of Think City. Dr. Benson said that Cities need to make adaptive policies because we are living in an age of crisis. He also shared that Penang City is planning to build a more resilient city based in a digital green economy and high value tourism.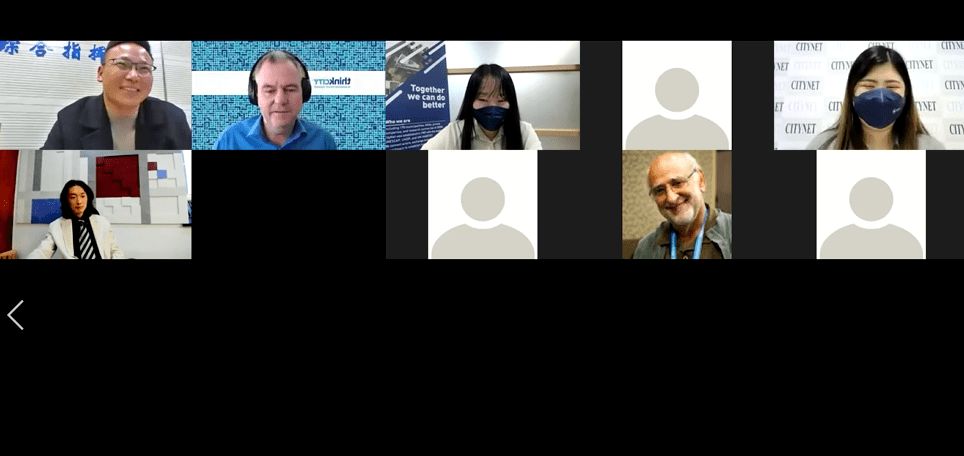 Mr. Ville Alatyppö, Maintenance Director in the City of Helsinki, Finland introduced the city's experience in dealing with heavy snowfall. The city utilizes the underground space as part of the municipal snow handling process which also contributes to the sustainability transition. It provides solutions not only to handle needs efficiently but also reduces the emissions produced when moving snow from the new construction site.
Mr. Alatyppö's presentation was followed by the Director of Bureau of Agriculture and Rural Affairs of Wuxing District, Huzhou City, Mr. Zhongming Shen. Mr. Shen shared about the district's high-quality development strategy of the aquaculture industry. To prioritize ecological protection and ensure green development of fisheries, the district also uses ICT technology to track the origin of its aqua-products. This allows the district to ensure that all products are of good quality, promoting the region's aqua-products as a well-known and reliable brand.
The first day was wrapped up by Mr. Wei Wang, Director of Bureau of Urban Planning and Land Resources of Nansha District, Guangzhou City. Mr. Wang delivered a holistic presentation about Nansha's green transition and smart development experiences, such as the implementation of various practices including "Sponge-City", Low Carbon Techniques, and IoT in Nansha, the sub center of Guangzhou City.
On the second day, Mr. Jiyu Liu, the Director of Digitalization of Beijing Institute of Architecture Design, expressed that ICT is the lifeline of a smart city. Using a case study from Beijing, he shared three key dimensions: Infrastructure upgrade, smart city analysis, and the pathway of implementation.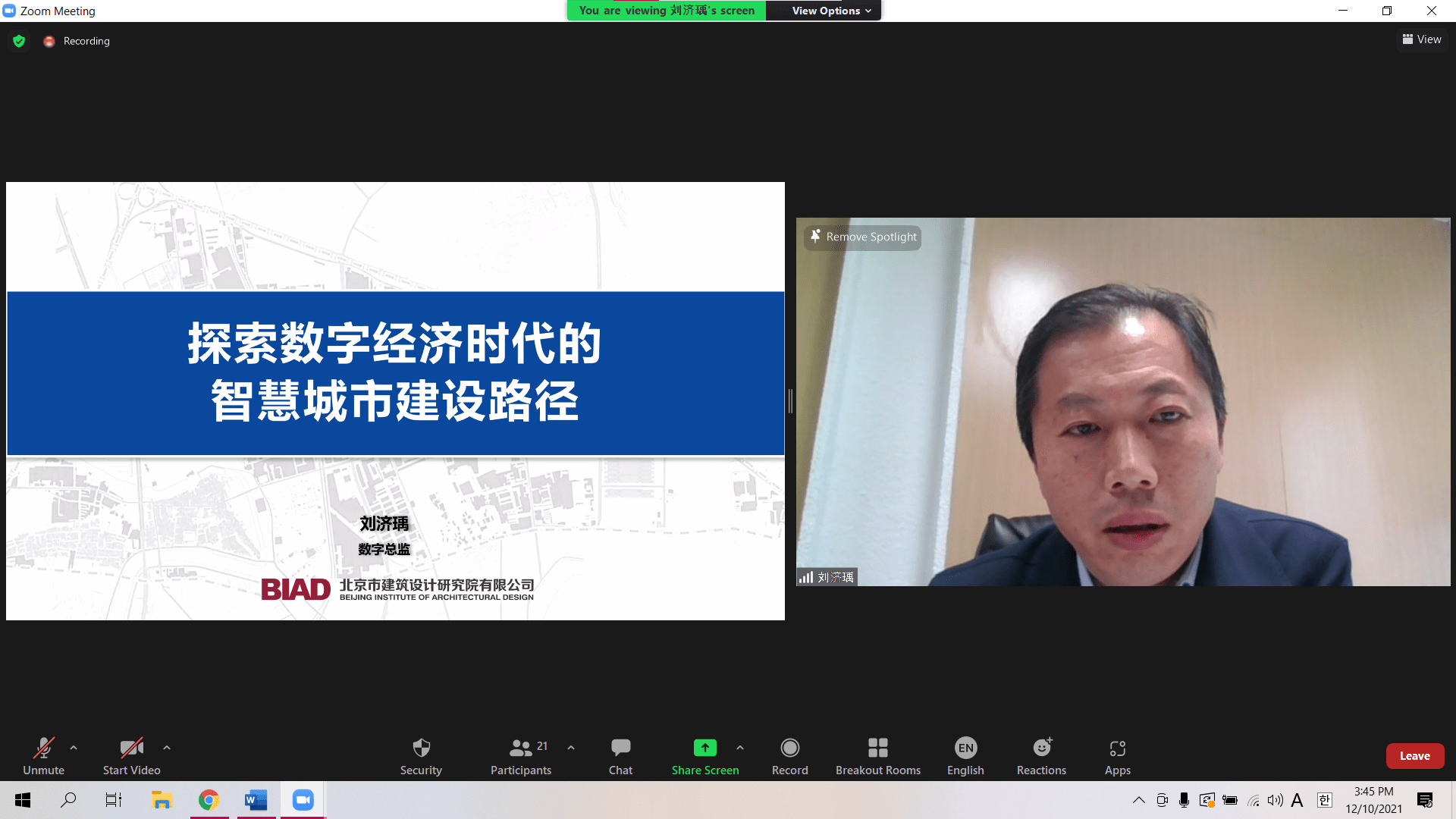 Mr. Lingcong He, the President of the Wuhan Association of City Planning, introduced Wuhan as a core of the urban agglomerations along the Economic Belt around the Yangtze River, where it also plays a strategic role. Therefore, Wuhan has made great effort to improve its urban layout and transform its industries to promote green development in terms of natural resources, education, industry, transportation, history, and culture.
Mr. Zhengrong Chen, the Vice President of East China Urban Development Research Alliance of China Communications Construction, delivered an informative presentation about smart city design and sustainable green building practices. Mr. Chen introduced 2 cases about Fuyang Future Park and Jinhua Central Innovation Zone, both of which are highly related to IoT and Sustainable Design, adhering to the concept of green transition.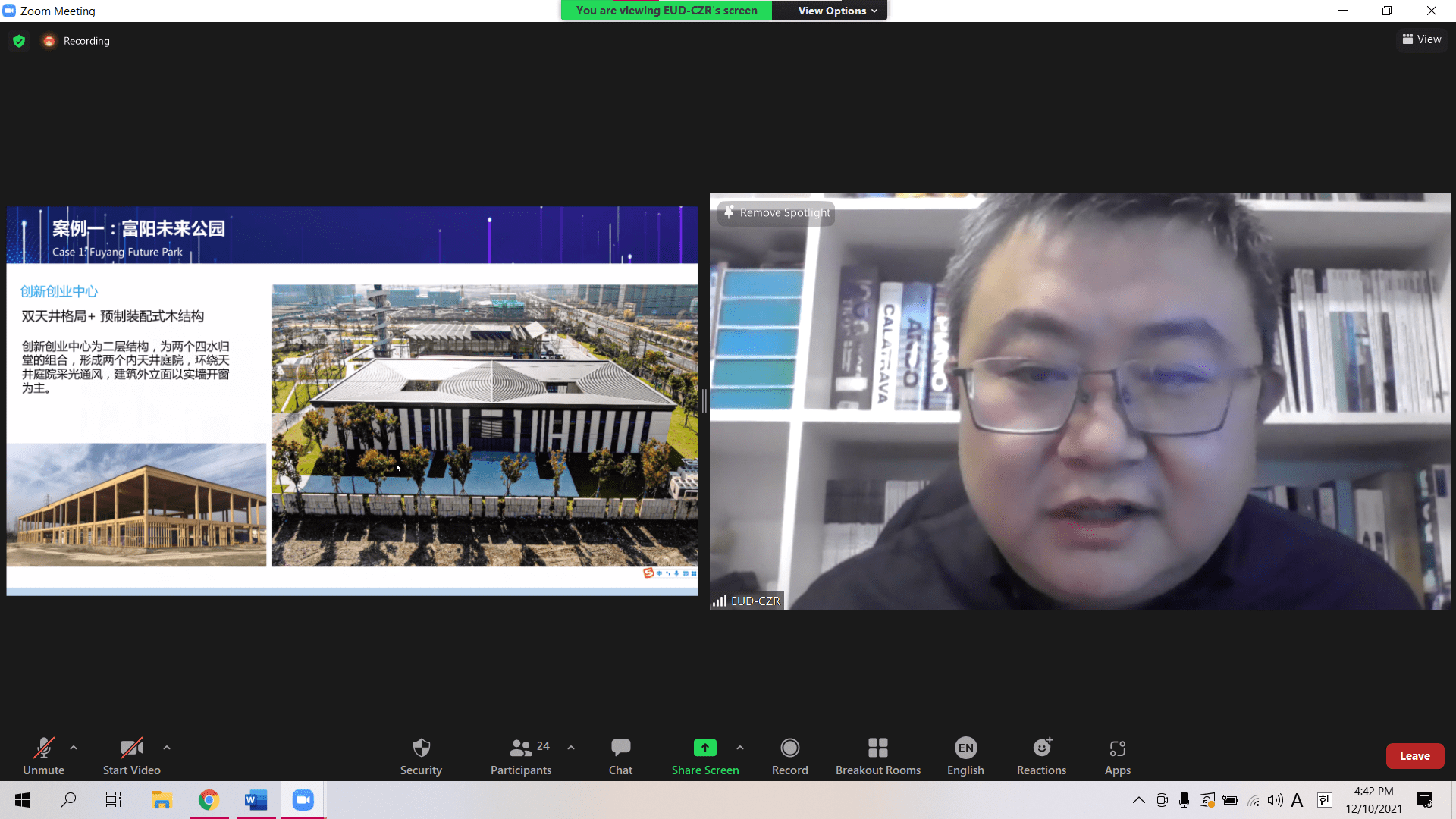 Mr. Baofeng Li, Professor at Huazhong University of Science and Technology, presented about the construction site of the Low Carbon Tourism Center in Tujia Minority's residential area. Environmentally friendly and low carbon concepts were included in the whole process of construction, with a cradle-to-cradle approach. The project used wood resources and applied traditional techniques to build the site. Under the concept of green transition, it was a great practice showcasing the harmony of tourism development and environmental protection.
During the two-day workshop, participants learned about and conducted an exercise on the Toolkit on Localization of Urban Practices guided by Ms. Megan Chow, Program Officer at CityNet. The Toolkit on Localization of Urban Practices is a pre-feasibility tool developed by CityNet to help cities assess if best practices from one city can be replicated and localized into another city.
This workshop is the fourth workshop of CityNet's National Workshop Series for our members in 2021. The National Workshop Series 2021 of CityNet has been conducted for Mongolia, Indonesia, Nepal and China. In 2022, CityNet will continuously provide knowledge exchange through various activities for our members.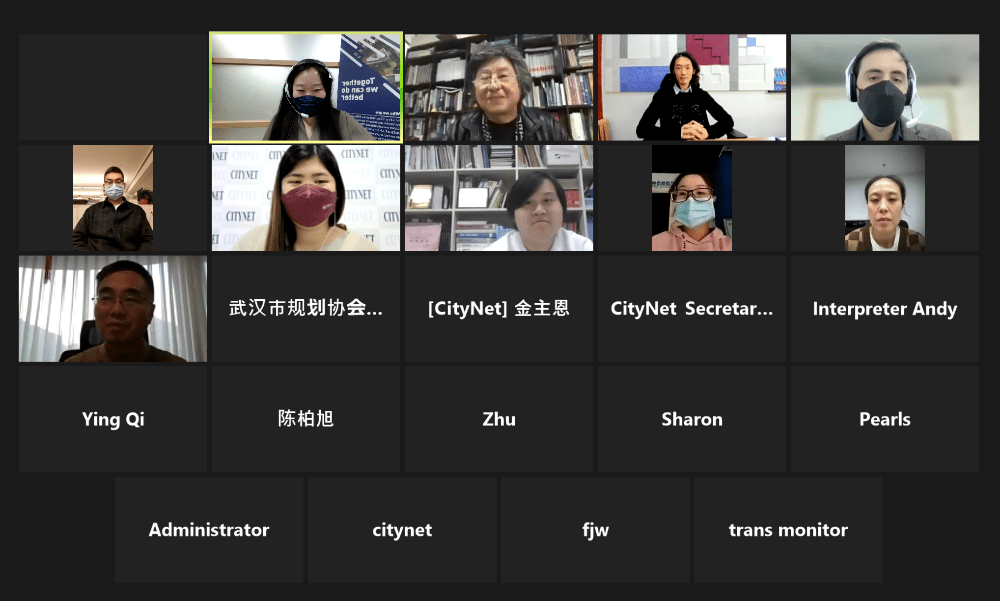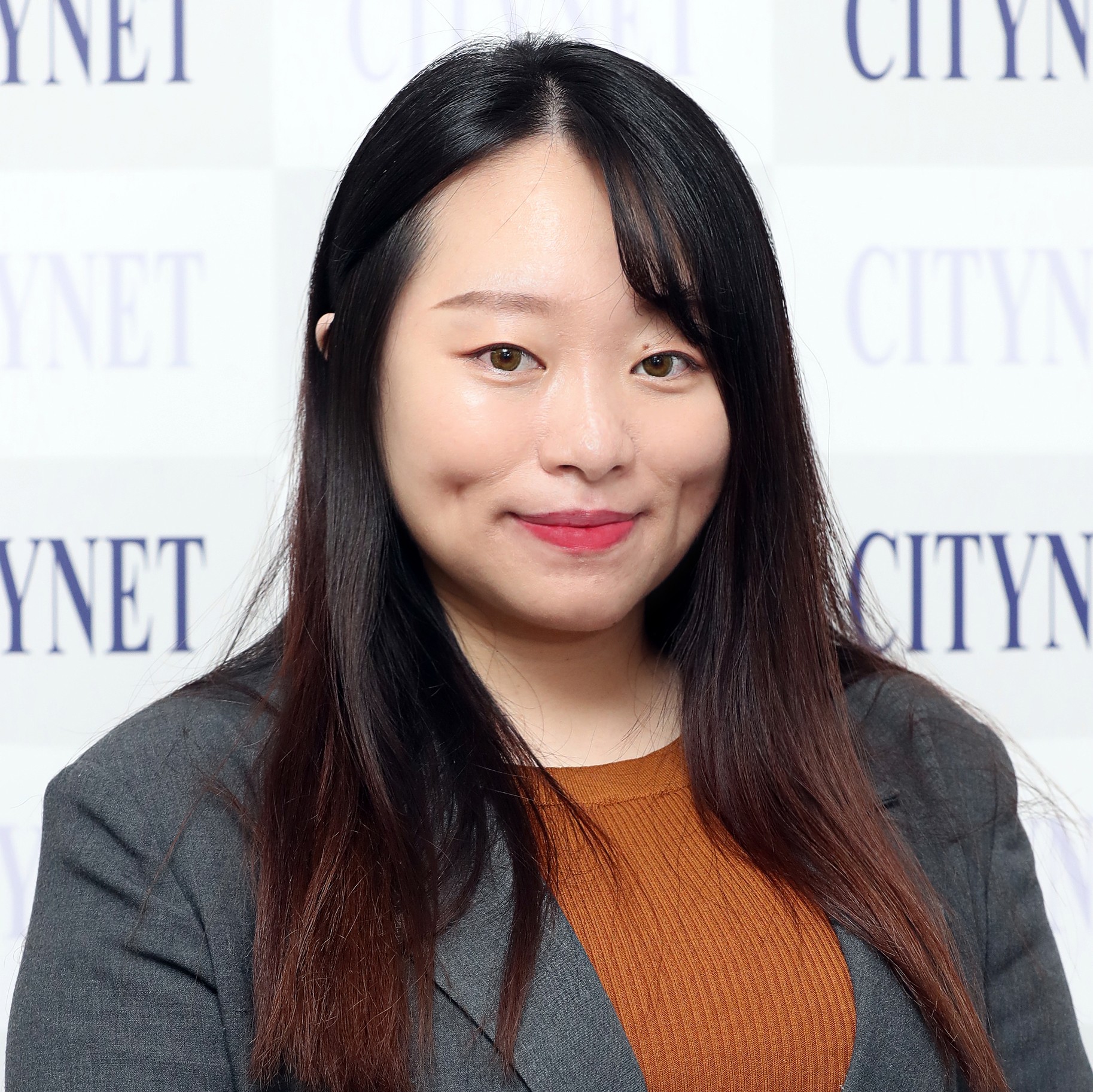 Hui Qian is a Senior Program Officer at CityNet, where she manages outreach and CityNet Services. Prior to joining CityNet, she worked at ICLEI East Asia Secretariat, with a focus on city-scale research and projects. Hui has a background of Sustainability Science and Greenhouse Gas Emissions Inventory Compilation. She obtained a Master of Science in International Cooperation Policy from Ritsumeikan Asia Pacific University (Japan) and a Master of Engineering in International Material Flow Management from Hochschule Trier (Germany). She is experienced in working under multicultural environment with multidisciplinary cooperation.