We may not often think of the many adverse environmental and social impacts in the communities where we live, work, and play. The dynamics are complex. When a part of the community gets disrupted or faces threats, everyone could be affected. So, what makes communities progress and live in harmony? This webinar sought to find out what makes communities resilient, and our role in shaping them.
Organized by CIMB in collaboration with Think City, a CityNet Associate member, this webinar, held on September 15th, saw Secretary General Vijay Jagannathan deliver a speech on highlighting key points of a resilient city, lessons learnt from COVID-19 in regards to resilience, the disproportionate impact on lower-income neighborhood, and the potential for post-pandemic planning.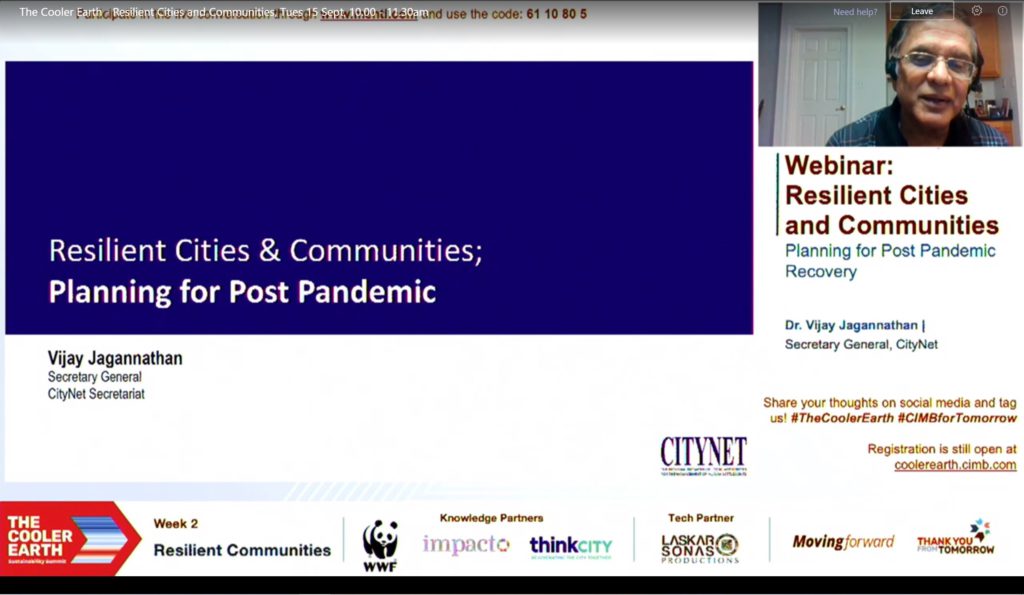 The theme of resilient cities was also explore with the subsequent speakers who described and shared Malaysia's Program Perumahan Rakyat (PPR), a social housing program that has resulted in a great reduction of urban poverty and improved access to education and health services. Coastal ecosystems were also addressed as part of resilient cities as Coastal livelihoods, quality of life, and the marine environment are closely linked, starting with individuals being responsible and capable of big impact with every small actions they take.
Insights | Planning for Post-Pandemic Recovery
Vijay Jagannathan, Secretary General, CityNet
Insights | Social Housing Renewal – Imperative and Opportunity to Build Resilience
Uta Dietrich, Senior Programme Manager, Think City
Insights | Community Resilience – Coastal Ecosystems
Julian Hyde, General Manager, Reef Check Malaysia
Moderator | Duncan Cave, Programme Manager, Think City