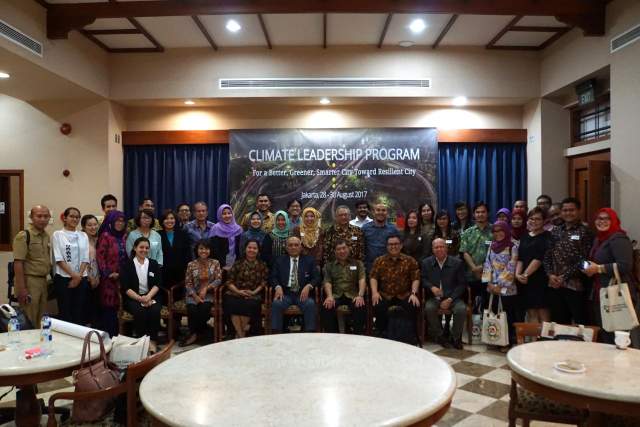 As an effort to address the impact of climate change, CityNet organized the Climate Leadership Program in collaboration with UCLG ASPAC, Jakarta Research Council and Jakarta Capital City Government on 28-30 November 2017 in Jakarta, Indonesia.
This three phase program is aimed at cultivating innovative leaders who will improve their competencies to build cross-sectoral netwoks, initiate transformational changes at individual, organizational, and city levels towards low carbon, resilent cities, and sustainable future. The first phase of the leadership program focused on leadership and city management under climate change impacts that included introduction, process and the relevant instruments for collective leadership.
The Climate Leadership Program is designed for decision-makers and leaders at many levels who are working in the context of climate change with and within the government. They will engage various urban actors to make a difference by initiating changes towards low carbon cities, resilient cities and a sustainable future.
Climate change is a global phenomenon that requires local or city acts and is one of the most serious environmental challenges facing the world where cities are the most vulnerable to the negative impacts. It causes high growth rate, land-use change, reduced open space, and ineffective governance.
It should be anticipated from many aspects, however, the anticipation is characterized by uncertainties, complexity and conflicting interests. The complexity of the climate change impacts in one hand and conflict of interest in the other is where leaders become the key players to solve various issues for a better management and a greener, smarter toward resilient city.
The second phase of this leadership program is scheduled in 2018.