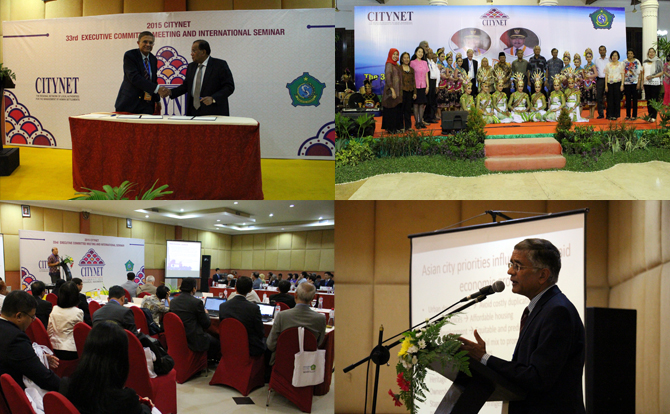 CityNet's 33rd Executive Committee Meeting and International Seminar have successfully been held in Sidoarjo, Indonesia from October 5th to 7th. The three day event started with the Executive Committee Meeting, the highest governing body of CityNet that meets annually to give vision and strategy to the Secretariat. This was followed by two day international seminar where participants spent considerable time sharing knowledge on the various experiences facing urbanization challenges.
The topics discussed in the lively and engaging seminar were the initiatives towards making cities more liveable, appropriate policies for disaster risk reduction and building resilient cities, flood management, and challenges and success stories to adapt and implement smart city technologies. In addition to a number of representatives from partners like UNESCAP, UNDP, UNISDR, UCLG ASPAC, WCCD and Microsoft, CityNet engaged its member cities to share their success stories in addressing the ever growing urban challenges, like Kathmandu, Banda Aceh, Muntinlupa, Bangkok, Taipei City and Jakarta, among others.
While every city faces its unique issues there are some common strands emerging that represent uniquely Asian perspectives that could be summarized into four categories:
The size and speed of urbanization is taking place at an unprecedented rate, creating a huge stress on the urban and regional environment.
The emergence of urban inequality exemplified by a huge segment of very poor residents surviving through informal sector vocations, and a growing number of middle and high income residents benefiting from the globalization of the economy. The challenge is to enhance equitable access to all urban services.
The exposure of many Asian cities to disaster risks, and how their coping strategies have not only shaped global policies for disaster risk management, but also provided important markers for climate change adaptation policies.
The urgency to raise finances to meet the investment needs, and explore innovative options available for cities interested in accessing climate finance. To this end, adopting performance based budgeting at the municipal level will enable better leveraging of limited public funding available in the cities.
As part of the programmes, participants visited the location of the mud flow in Sidoarjo – the result of an erupting mud volcano in the sub district of Porong, Sidoarjo. Although the Sidoarjo mud flow has been contained by levees since 2008, local highways and villages are still vulnerable to floods and mudslides. In response to that new infrastructure projects, such as the highway between Surabaya and Malang, are being implemented. The second site that participants visited was the National Chapter Project 2014. Under National Chapter Indonesia, Sidoarjo received $5000 to conduct the project 'Catfish Breeding for Business Development and Youth Empowerment'. The project takes advantage of the geographical location of the Regency, which is located between two rivers and close to the sea and supports local fish farmers.
In addition, this is the first year for CityNet to co-organise CitApp in conjunction with the Executive Committee Meeting that is also hosted by Sidoarjo Regency, where around 100 CityNet members and partners that include city mayors, high level city officials, urban stakeholders and international experts convene. CityApp is expected to be the best example for other cities to come up with this smart city initiatives, as suggested by CityNet Secretary General Vijay Jagannathan.