On 7 June, CityNet, in collaboration with the Think City Institute and Safetipin, introduced an online course titled "How Safe is Your City? A Masterclass on Urban Safety". The course launch attracted an impressive enrolment of 76 participants, civil servants and other urban safety stakeholders all eager to gain insights into creating safer cities that cater to the needs of their city inhabitants. Mr. Anak Yoga, a course participant from Denpasar, Bali, aptly shared his insight as the following: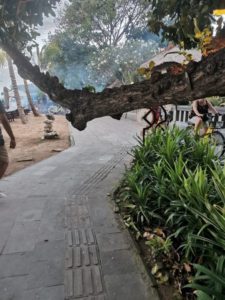 "My city provides some disabled facilities, but at some point they need improvement. Just like this one, there's a branch that's too low over the tactile paving sidewalk and will be dangerous for disabled people (especially those who are visually impaired)." 
 – Mr. Anak Yoga
This quote highlights the real challenges faced by individuals with disabilities and underscores the significance of addressing inclusivity in urban safety initiatives.
Over the course of three weeks, participants engaged in self-guided study, leveraging a rich array of educational materials, prepared by Safetipin, a social enterprise that has developed smart phone applications to make cities safer through data. Lectures, case studies, and interactive activities were carefully curated to deepen their understanding of the built and social environments in cities, with a particular emphasis on fostering inclusive and accessible public spaces.
The masterclass consisted of three modules that guide participants through a comprehensive learning journey on urban safety. The first module introduced urban safety as a concept, emphasising its significance in fostering vibrant urban spaces. The second module explored the principles behind establishing secure, responsive, and equitable environments. The final module delved into the various tools and methodologies for tackling urban safety challenges.
The course will conclude at the end of June with a live review session, wherein the participants will have the opportunity to engage in stimulating discussions with the instructors and their peers from other cities in the region, seek clarification and receive further guidance to enrich their learning experiences. The results of the participant's safety audit exercises using the My Safetipin App will be discussed to seek local solutions to achieving safer cities.
By prioritizing the well-being and security of residents in cities, this course sets the stage for inclusive, sustainable urban development.
The Urban Safety Masterclass will remain available on the Urban SDG Knowledge Platform. All CityNet members may enrol in the self-guided course and start learning for free by clicking HERE.
This article has been written by Program Assistant Erin Um.
Erin Um is a Program Assistant at CityNet, where she assists in managing the Urban SDG Knowledge Platform and other related projects. Prior to working at CityNet, she worked at a humanitarian non-profit organization. She obtained a BA with a double major in Economics and International Relations. She can be reached at pg.assistant1@citynet-ap.org.