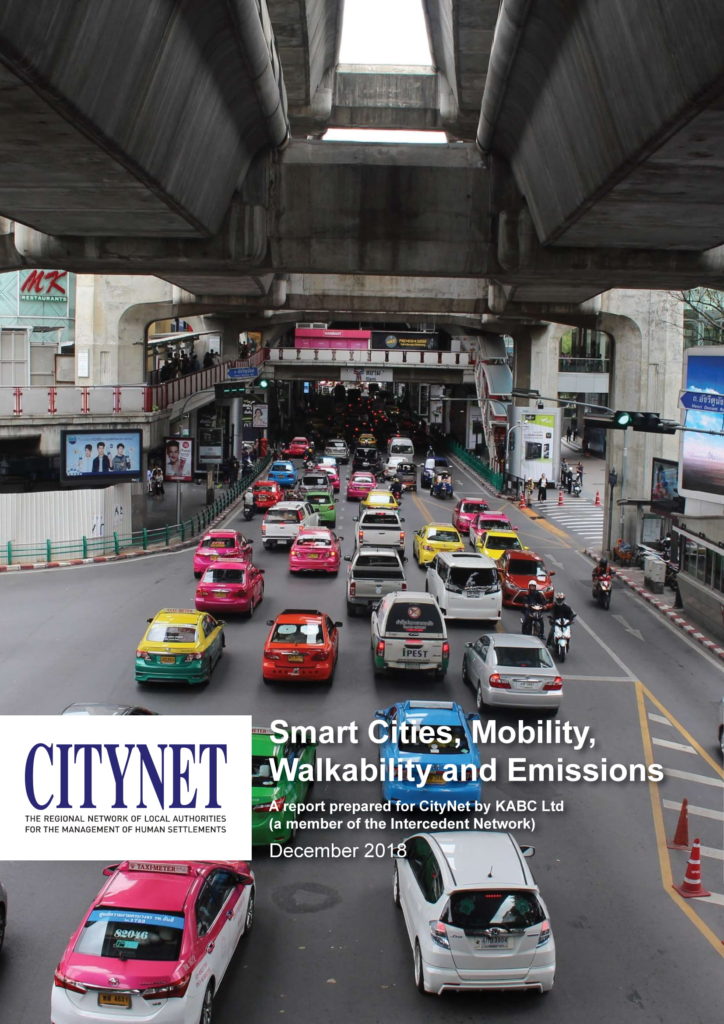 A study published by CityNet, the Regional Network of Local Authorities for the Management of Human Settlements, revealed that most Asian cities have not yet measured emissions or have a clear idea of levels of emissions from transportation despite the fact that transport accounts for 20% of emissions in Asian cities. The study also showed that small cities lacked area traffic control (ATC) and CCTV while medium-sized cities have smart infrastructure and connectivity but no real big data function.
This has drawn a question on how building a smart city could contribute to addressing the above urban problems. This report, "Smart Cities, Mobility, Walkability and Emissions", focusing on sustainable mobility and emission reduction, was published on the 15th of March in collaboration with Korea Associates Business Consultancy Ltd. It is based on the tabulated responses of CityNet members' needs assessment conducted between October-November 2018, following a pre-survey focusing on urban infrastructure development, which put mobility at the top priority that requires immediate action in developing innovative solutions to the ever-growing urban challenges. The survey canvassed the opinions of 28 CityNet member cities and five associate members coupled with in-depth interviews conducted with experts in Delhi, Galle, Hanoi, Jakarta, Kuala Lumpur, and Taipei City.
Challenges in mobility and emissions
According to the study, these cities shared the following similar goals in mobility and emissions: reducing traffic delays due to congestion and improving journey times, increasing share and profitability of transit, sharing the road and pavement space, reducing emergency support time lapse, and reducing emissions and improving air quality. Some of the solutions suggest to work toward a new model supporting public transport transit, walking, and cycling, while preparing for more transport sharing and eco-friendly urban transportation.
Necessary conditions of smartness
For developing smart cities to feed into solving the challenges above, it can start with better data and developing smart solutions for transit utilisation with further policy for eco-mobility. In terms of data, the connectivity of data is one of the core elements in the drive to create smart cities. Without data interconnectivity, cities hold it in silos given that, for the future, real time data itself cannot be streamed into solutions. At the same time, citizen's desires should come together with the data interconnectivity. Smart cities with high degree of smartness have been successful not only by creating systematic plans, also by encouraging citizens to participate with proposals that can be seen from successful cases such as Seoul and Taipei City. The citizen's desires often reflect users' needs that are essential for user-centred transport policies which are mutually beneficial for both operators and users.
Needs for shared experience
When it comes to building a smart city, the study showed that most of smaller cities are in need of experience shared by other cities that have already gone through similar challenges. As Deputy Mayor of Kuala Lumpur Datuk Mahadi bin Che Ngah endorsed, peer sharing is one of the key solutions that facilitates a high degree of improvement when leading cities share the success stories and the strategies which they have developed over the years. Furthermore, it may create a bond of sympathy which can encourage them to have a firm conviction to have better commitment and determination.
CityNet Secretary General Vijay Jagannathan emphasised "The next step is for cities to develop action plans which are operationally relevant and cost effective within each city's specific economic and political context. Equally significant, the city needs to customise or localise good practices, improve human resources, and engage communities in a dialogue that shares not only the success stories but also failures to avoid repeating the mistakes made by their peers. CityNet has already planned to accelerate its knowledge sharing more strategically, and it will enable them to get closer to the solution of their urban problems."
Goals of smartness
However, smartness is not an end in itself. The smartness is a measure to improve transit, reduce congestion, and promote a green city through energy-efficient, resource-efficient solutions – in that case, a smart city is one which is able to provide all the services its citizens need in the most efficient way, while creating jobs, fostering new ideas, being respectful with the environment, and taking into account its citizens opinions. Substantial steps towards many of these goals can be achieved by straightforward city planning, through putting these priorities. The report can be accessed on CityNet's official website at https://citynet-ap.org/category/resources and National Library of Korea's website at http://www.nl.go.kr/english.
About Korea Associates Business Consultancy (KABC Ltd.):KABC Ltd. is part of the Intercedent Network which has representatives in most Asian Cities. KABC Ltd., a partner of Intercedent based in Seoul, has been in the business of making surveys both in Republic of Korea and regional studies since 1989. Prior to collaborate with CityNet in this report, KABC Ltd. has previously partnered with CityNet and its member, Microsoft, in publishing a white paper on Cloud Adoption for Asia's Cities.