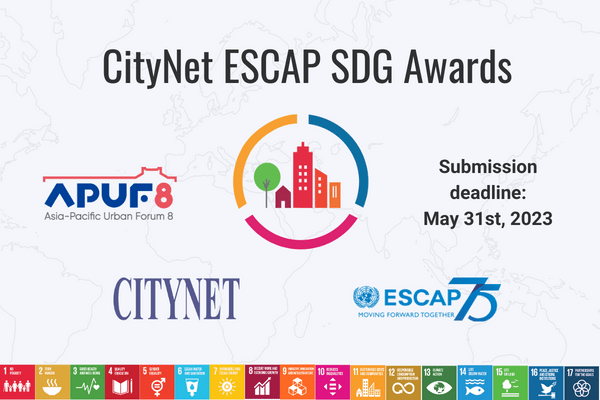 The Urban SDG Knowledge platform is currently accepting case study submissions for the 2nd CityNet ESCAP SDG Awards Program. This year, the case studies will also be included in the 2023 Future of Asian & Pacific Cities Report that is being collaboratively developed by UNESCAP, UN-Habitat, ADB, Urbanice Malaysia, Melbourne Centre for Cities, CityNet, and others. An awards ceremony will be held at the 8th session of the Asia-Pacific Urban Forum (APUF-8) being hosted by Suwon, Republic of Korea from 23-25 October 2023.
The purpose of the call is to highlight innovative urban policies, case studies, initiatives or partnerships and deepen practical knowledge on sustainable urban development solutions to emerging and interlinked issues.
The case studies should be in line with the four thematic categories outlined in the Future of Asian & Pacific Cities Report: 'Urban & Territorial Planning', 'Urban Climate Action & Resilience', 'Inclusive Urban Digitalization & Innovation', and 'Urban Finance'.
All case study submissions will be published on the Urban SDG Knowledge Platform. For extraordinary case studies, representatives may be invited to the 2nd Urban SDG Knowledge Platform Awards Ceremony at APUF-8 in Suwon in October. A panel of judges consisting of high-ranking officials from CityNet and UNESCAP will evaluate a shortlist of selected case studies and will determine winners for each theme. Prizes will include a trophy, presentation time to share experiences at APUF-8, and the option to participate in follow-up capacity building activities.
Key Information
Who can make submissions?
The CityNet ESCAP SDG Awards welcomes case study submissions from
–  local and regional government (city) level
–  national ministry level
–  other stake-holding organisations in sustainable urban development
The focus of case studies should be on urban projects in cities within the Asia Pacific region. To check eligibility requirements, please refer to UN ESCAP's membership list.
What type of case studies?
The Platform is calling for innovative case studies under the following 4 themes:
+ Urban & Territorial Planning
(Public Space, Inclusivity, Urban Regeneration, Housing, Transportation, etc.)
+ Urban Climate Action & Resilience
(Urban Forestry, Disaster Risk Reduction, Greenhouse Emissions Reduction, Climate Modelling, etc.)
+ Inclusive Urban Digitalization & Innovation
(ex. Addressing Digital Divide, e-Governance, Digital Infrastructure, etc.)
+ Urban Finance
(ex. SDGs Financing, Public Private Partnerships, Sustainable Financing Streams, etc.)
When is the deadline?
The case submission is due 30 June 2023.
Where should the cases be submitted?
The cases can be submitted in two ways:
–  The submission can be uploaded directly to the Urban SDG Knowledge Platform. Please make sure to register as a user by clicking "JOIN" at the top of the page.
–  The attached case study template document can be filled in and emailed directly to sdgplatform@citynet-ap.org. Please include at least 1 image.
Download the Case Study Upload form with further info here.
Once approved, the case will be uploaded to the platform on behalf of the applicant.
For inquiries, please contact Mr. Chris Di Gennaro at sdgplatform@citynet-ap.org.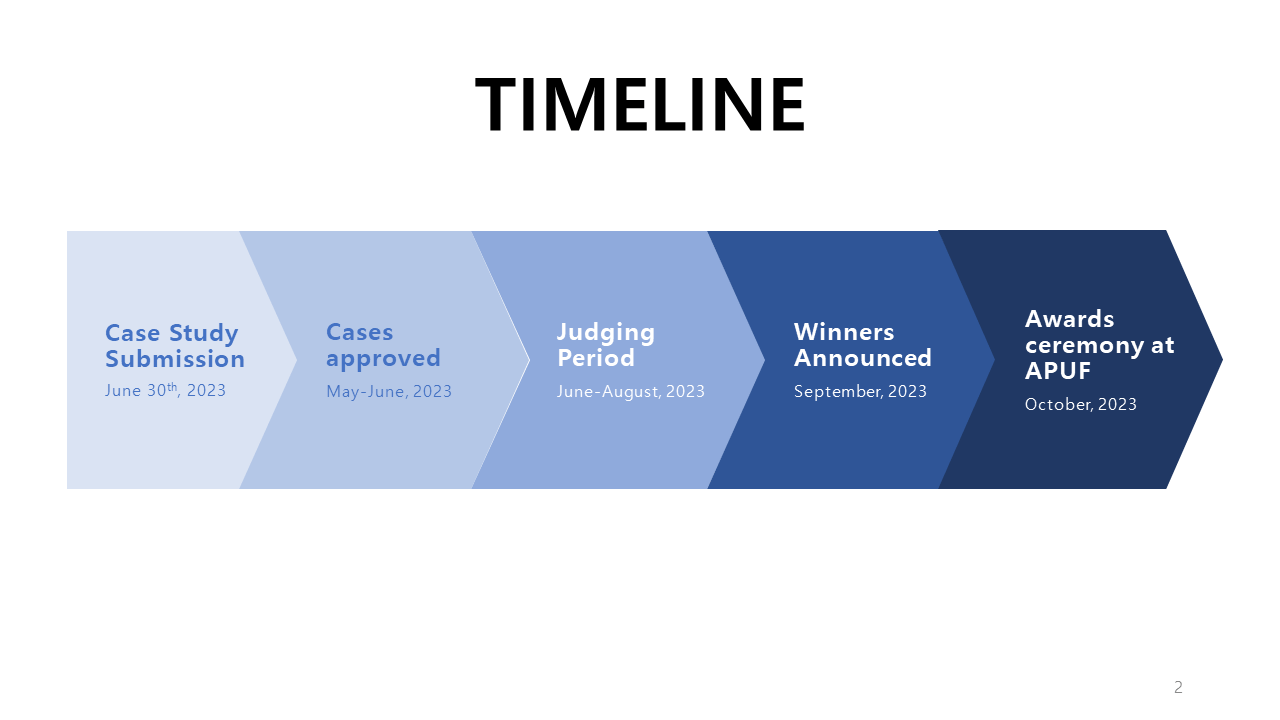 Erin Um is a Program Assistant at CityNet, where she assists in managing the Urban SDG Knowledge Platform and other related projects. Prior to working at CityNet, she worked at a humanitarian non-profit organization. She obtained a BA with a double major in Economics and International Relations. She can be reached at pg.assistant1@citynet-ap.org.