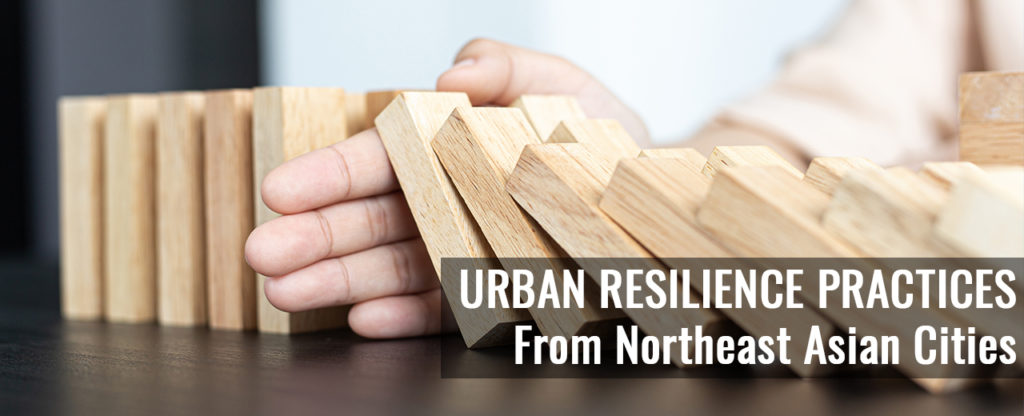 Learn from city peers and experts in Northeast Asia as they manage unprecedented floods, typhoons, and other disasters in their cities and cope with the impact through CityNet's Urban Resilience Practices from Northeast Asian Cities Lecture Series.
The Urban Resilience Practices Lecture Series showcased successful local urban resilience programmes on cross-cutting themes, such as disaster preparedness, emergency management, and long-term post-disaster recovery. The webinar also shared lessons and informed decision makers and practitioners on common success factors towards understanding and building capacities for urban resilience for cities in the Asia-Pacific.
The first session featured lectures on climate resilience and flood mitigation. First, Ambassador Haiming Xing greeted the participants and expressed his hopes for stronger city-to-city cooperation in the future. CityNet CEO Geun Hyeong Yim reiterated the importance of city-to-city cooperation in creating a better urban future. Ms. Wenyi Xi from WRI China shared about urban adaptation measures to protect vulnerable groups, while Dr. Zhao Zeng from Tianjin University shared on the Flood Footprint model, which assesses the economic impact of flood on production supply chains. A summary of the session, speaker presentations, and the Youtube videos can be found here: Session 1
The second and third sessions were held back-to-back, featuring tools that can help cities and other urban multi-stakeholders assess their resilience and best practice case studies from four Northeast Asian cities. To get things started, Mr. Sanjaya Bhatia of the United Nations Disaster for Disaster Risk Reduction (UNDRR) emphasized the importance of city cooperation to improve urban resilience.
During the second session, Dr. Tony Michell presented the CityNet survey currently being conducted to assess the impact of COVID-19 on city governments and identify their needs for recovery. Dr. Semee Yoon then presented the SDG Navigator, an assessment guide that help the city and its multi-stakeholders strengthen their SDG localization process.
The third session featured four cities — Chongqing (China), Dalian (China), Suwon (South Korea), and Matsuyama (Japan) — who shared on their urban resilience practices. Dr. Huafeng Gong of Chongqing Sustainability of Landscaped-City Development Institute presented the different challenges Chongqing is facing and their plans on addressing these resilience challenges. Dr. Haimin Jun from Dalian Urban Planning & Design Institute shared how Dalian is developing measures on water resource management to help Dalian become a sponge city. Dr. Eunyoung Kim of Suwon Research Institute mentioned Suwon is building green infrastructure and promoting research and development to address issues like heat waves and heavy rains. Finally, Mr. Daisuke Shiba from Matsuyama City's Crisis Management Division said that developing human resources toward enhancing community responses on disasters remains an important process.
A summary of the session, speaker presentations, and the Youtube videos can be found here: Session 2 & 3